Jan. 21, 2022
On September 25, Starlight Power and Zhaoqing Doluoshan Sapphire Rare Metal Co., Ltd. successfully signed three sets of Chongqing Cummins diesel generator sets with powers of 200KW, 320KW and 800KW respectively. It is reported that this is the second cooperation between Doroshan and Starlight Power. In July 2018, it has purchased 5 diesel generator sets from Starlight Power.

Zhaoqing Doluoshan Sapphire Rare Metal Co., Ltd. was established in 1998, covering an area of 300,000 square meters, with fixed assets of 600 million yuan, annual sales of more than 700 million yuan, and annual foreign exchange earnings of more than 50 million US dollars. A production and supply base of high-tech application materials dedicated to the research and development, production and sales of rare metal materials such as tantalum and niobium, and a world-renowned enterprise in tantalum and niobium smelting and deep processing. At present, it has formed two series of 108 varieties of tantalum and niobium and its deep processing products, which are widely used in high-tech fields such as national defense, electronics, IT, metallurgy, chemical industry, optical instruments, aerospace and atomic energy. Thanks to Zhaoqing Duoluoshan Sapphire Rare Metal Co., Ltd. for choosing Starlight Power as the supplier again for this diesel generator set procurement project, and thanks to "Duoluoshan" for the affirmation of Starlight Power's products and services.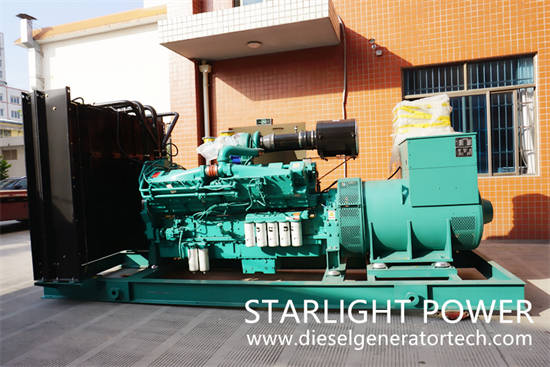 The diesel engines of the series of diesel generator sets purchased by this user are all of the Sino-US joint venture Chongqing Cummins brand. The products have the characteristics of small size, light weight, low fuel consumption, high power, reliable operation, and convenient spare parts supply and maintenance.
Jiangsu Starlight Electricity Equipments Co.,Ltd. was founded in 1974, as a wholly-owned subsidiary of Jiangsu Starlight Power Group, it is one of the earliest manufacturers of generator sets in China. Starlight Power has 64 sales services, long-term technical advice for users, free debugging, free maintenance, free training services. For more details, please contact us with sales@dieselgeneratortech.com