Dec. 02, 2021
On February 16, 2021, Jiangsu Starlight Electricity Equipments Co.,Ltd. successfully won the bid for a 250KW Chongqing Cummins diesel generator set, which will be used as an emergency backup power supply for the Fourth People's Hospital of Huai'an City.

The Fourth People's Hospital of Huai'an, namely Huai'an Infectious Disease Hospital, was established in 1970. It was formerly known as Nanjing Infectious Disease Hospital and is the only second-level infectious disease hospital in the city. It is understood that since the hospital admitted to treating patients with pneumonia infected by the new coronavirus, it has formulated detailed treatment and care plans for confirmed patients, adopting integrated Chinese and western medicine treatment, and strengthened psychological counseling, precise treatment, and remarkable results.
Up to now, the hospital has cured more than ten patients with new coronary pneumonia infection and discharged from the hospital. Starlight Power is very honored to be the winning bidder for this urgently needed power supply equipment procurement project of the Fourth People's Hospital of Huai'an City. Starlight Power will go all out to ensure power supply and jointly fight against the new crown pneumonia.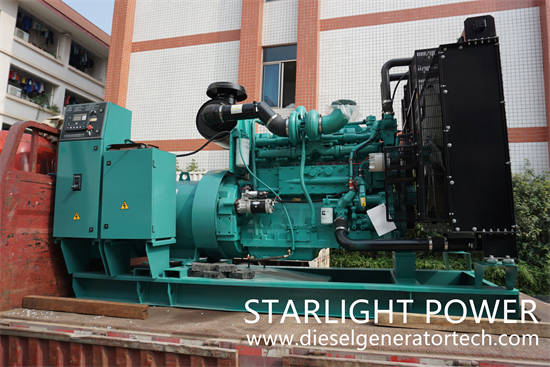 As of today, Starlight Power has rushed to support 6 diesel generator sets for designated hospitals to fight against the new crown pneumonia, such as four 600-640KW diesel generator sets from Wuhan Huoshenshan Hospital and one 800KW box-type generator set from Yongwu Hospital in Nanning City.
At this stage, we are at a critical juncture in the fight against the new crown pneumonia epidemic, and the supply of electricity and energy is the key. Riding on the front line of fighting the epidemic, Starlight will fight side by side with you.
Jiangsu Starlight Electricity Equipments Co.,Ltd. is one of the earliest manufacturers of generating sets in China. It has first-class testing equipment, advanced production technology, professional manufacturing technology, perfect quality management system, and strong R&D technical strength. It can provide 3KW-2500KW various specifications of universal, automatic, four protection, automatic switching, low noise and mobile, etc., high-quality, low-energy generating sets to meet all customers' power needs, and can also meet users' different voltages and different frequency requirements, as well as the parallel-connected power supply system of multiple units, use excellent talents to build excellent enterprises, create excellent products, create excellent services, and strive to build excellent domestic enterprises. For more product details, please contact us with sales@dieselgeneratortech.com