Sep. 10, 2021
On September 5, 2020, Jiangsu Starlight Electricity Equipments Co.,Ltd. and China Railway 20th Bureau Group Co., Ltd. successfully signed a 100KW Shangchai diesel generator set for the construction of the No. 4 project manager of the Nanyu Railway Station Front Project.

The predecessor of China Railway 20th Bureau Group Co., Ltd. was the 10th Division of Railway Corps. It was founded in 1949 and is a large-scale national construction enterprise. It has the qualifications for general contracting of railway engineering construction, as well as the qualifications for general contracting of highway and municipal engineering construction, as well as multiple qualifications for construction of water conservancy and hydropower, industrial and civil construction projects. China Railway 20th Bureau Group Co., Ltd. currently has 6 subsidiaries invested and controlled by the group company, and has 8 professional branches including railway engineering, highway engineering, basic engineering, municipal engineering, water conservancy and hydropower engineering, urban traffic engineering, mechanical engineering, and overseas engineering, engineering projects are spread all over the world.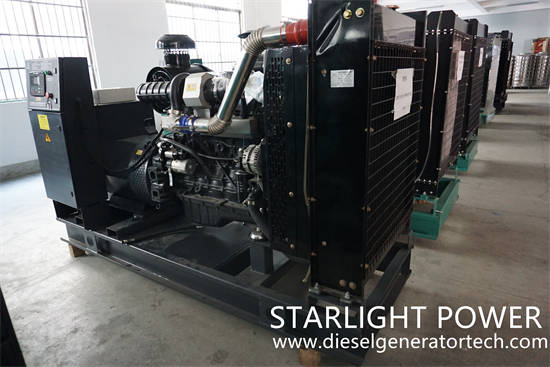 It is understood that the generator set purchased by the user this time is configured with a Shangchai engine with a starlight generator, and the engine is a Shangchai H series. This series is designed by Shangchai based on the characteristics of the Chinese market and with reference to the mature technology of the international advanced engine. The GPDP development process, the world power platform built according to SAIC MOTOR manufacturing standards, has the advantages of compact structure, wide power range, high reliability, good economy, and low vibration and noise.
Unit characteristics:
1. Four-valve structure, optimized design of airway turbine ratio and combustion chamber to achieve higher intake efficiency. P7100 fuel injection pump and vertical central fuel injector arrangement, new fuel atomization mixing technology application, fuel consumption saving 8~10 %.
2. The body B10 has a life span of more than 10,000 working hours and is safe and reliable.
3. The electronic governor is adopted, which has high adjustment accuracy and effectively controls the state characteristics of the engine.
4. Integral cylinder head, rear gear chamber, flexible connection, modular design, small size, light weight, industry-leading vibration and noise control.
5. Without air intake heating auxiliary device, the cold start temperature is -10°C, and the environment adaptability is strong.
Jiangsu Starlight Electricity Equipments Co.,Ltd. is one of the earliest manufacturers of generators and diesel generator sets in China, and it is also an authorized OEM manufacturer of Shangchai Company. Jiangsu Starlight Electricity Equipments Co.,Ltd. relies on high-quality products and good services, and insists on "treating people with sincerity and heart for heart". The serious work policy has won the strong support of the majority of users. Welcome to visit and consult. For more details, please contact us with sales@dieselgeneratortech.com