May. 13, 2022
Recently, Starlight Power received a thank you letter from the property service center of Guangxi Construction Engineering Building. The letter mentioned that your company purchased a 1200KW Ricardo diesel generator set in Starlight Power in 2016. The equipment has been used for more than 5 years. The operation is relatively stable, which fully affirms the performance of Starlight Power's products. In addition, in terms of after-sales service, the unit also expressed great appreciation for the due diligence of Starlight Power's after-sales service personnel for regular return visits, training and guidance for operators, and the first time the unit fails to provide door-to-door maintenance services. Therefore, Guangxi Construction Engineering Building Property Service Center sent a letter of thanks to Starlight Power to express its gratitude.

The 1200KW Ricardo diesel generator set used by this user adopts R series diesel engine. It is a new generation of power jointly developed by Starlight Power and British Ricardo Company. It has the characteristics of low fuel consumption, low noise, low emission, large torque, easy starting, small size, high power, high reliability, and convenient operation and maintenance.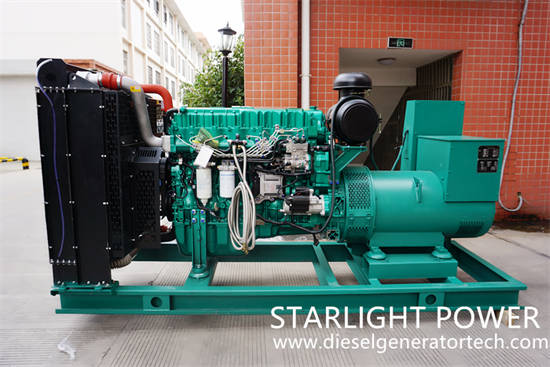 Jiangsu Starlight Electricity Equipments Co.,Ltd. learns from others' strengths and constantly digests and absorbs foreign advanced technologies. On the basis of the introduction and development of the British Ricardo R series diesel engine, advanced technology and equipment such as the Italian Fiat casting process, the German Hautinger cold core shooting machine, and the German Leidse three-coordinate measuring instrument have been introduced successively to make the R series diesel engine. Its reliability and life have reached the advanced level of similar products in the world.
Jiangsu Starlight Electricity Equipments Co.,Ltd. is one of the earliest manufacturers of generating sets in China. It has first-class testing equipment, advanced production technology, professional manufacturing technology, perfect quality management system, and strong R&D technical strength. It can provide 3KW-2500KW various specifications of universal, automatic, four protection, automatic switching, low noise and mobile, etc., high-quality, low-energy generating sets to meet all customers' power needs, and can also meet users' different voltages and different Frequency requirements, as well as the parallel-connected power supply system of multiple units, use excellent talents to build excellent enterprises, create excellent products, create excellent services, and strive to build excellent domestic enterprises. For more product details, please contact us with sales@dieselgeneratortech.com.