Jun. 28, 2022
Recently, Starlight Power and Guangxi Construction Engineering Group No. 1 Construction Engineering Co., Ltd. successfully signed a 400kw Ricardo generator for the backup power supply of the farmers' comprehensive market in Babu District, Hezhou City.

Guangxi Construction Engineering Group First Construction Engineering Co., Ltd. was established in 1955. It was a large-scale state-owned construction enterprise with the earliest establishment time, the largest number of employees and the strongest technical force in Guangxi at that time. Now affiliated to Guangxi Construction Engineering Group, it is a national housing construction general contracting super-class and a construction industry class-A design qualification enterprise. It has the first-grade municipal general contracting qualification, 11 professional contracting first-grade qualifications and 1 professional contracting second-grade qualification, as well as international engineering contracting and labor export qualifications. And has a comprehensive design and research institute with Grade A qualification, the company's registered capital is 940 million yuan.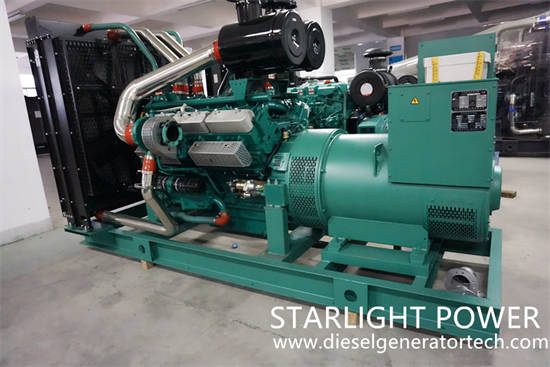 It is understood that this is the sixth time that Guangxi Construction Engineering Group has cooperated with Starlight Power. Before that, Guangxi Construction Engineering Group has purchased 5 diesel generators with a power range of 300kw-500kw from Starlight Power. Thanks to Guangxi Construction Engineering Group for choosing Starlight Power as the supplier again for this diesel generator purchase, and thanks to Guangxi Construction Engineering Group for its support and trust in Starlight Power.
The Ricardo generator purchased by the user this time adopts the R series diesel engine, which is a new generation of power jointly developed by Starlight Power and Ricardo Company of the United Kingdom. It has the characteristics of low fuel consumption, low noise, low emission, large torque, easy starting, small size, high power, high reliability and convenient operation and maintenance. It is an ideal power for vehicles, construction machinery, generator sets, ships, tractors, stationary power, etc. Based on the introduction and development of the British Ricardo R series diesel engine, Starlight Power has introduced the Italian Fiat casting technology, the German Hautinger cold core shooting machine, and the German Leidse three-coordinate measurement. Instrument and other advanced technology and equipment, so that the reliability and life of R series diesel engines have reached the advanced level of similar products in the world.
Looking forward to your inquiry, for more details, please contact us with sales@dieselgeneratortech.com.