Jan. 12, 2022
On October 10, Jiangsu Starlight Electricity Equipments Co.,Ltd. and Guangxi Yihua Real Estate Development Co., Ltd., a subsidiary of Yunxing Group, successfully signed a 1000KW diesel generator set, which is used for the emergency backup power supply of the D2 plot of Yunxing Qianlong capital. It is reported that this is the seventh cooperation between Yunxing Group and Guangxi Branch since 2006. As of today, it has purchased 8 diesel generators from Jiangsu Starlight Electricity Equipments Co.,Ltd., with a power range of 400KW-1000KW.

Yunxing Qianlong Capital Project is located in Wuxiang New District, Nanning, diagonally opposite Guangxi Sports Center. The project is divided into seven plots. Based on the cutting-edge concept of international blocks, the planning includes multiple property types such as high-rise residences, apartments, and large commercial blocks, interpreting a noble, leisure, fashion, convenient and efficient urban lifestyle.
It is understood that at present, the five 400-850KW diesel generator sets of the A plot, the B plot, the B1 plot, the C2 plot and the E plot of the project are all purchased from Jiangsu Starlight Electricity Equipments Co.,Ltd.. Thanks to Yunxing Group for choosing Jiangsu Starlight Electricity Equipments Co.,Ltd. as the supplier again for the diesel generator set procurement project of the Qianlong capital D2 plot project.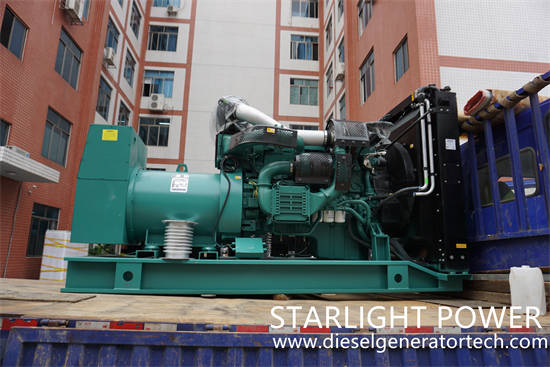 The diesel generator set purchased by the user has the advantages of compact structure, convenient operation, stable operation, low fuel consumption and low noise. For example, it adopts four-valve + supercharged intercooling technology, which has sufficient intake air, sufficient combustion and low fuel consumption. It adopts electronically controlled fuel injection system technology, with balanced operation, good transient speed regulation and strong loading capacity. It adopts a high-quality alloy cast iron cylinder block with a cambered reinforcing rib network structure, a high-strength vermicular graphite cast iron cylinder head, a double-safety anti-flushing cylinder head gasket structure, an original cooling technology at the bottom of the cylinder head, and high reliability.
In addition, Jiangsu Starlight Electricity Equipments Co.,Ltd. also provides diesel generator set transportation, loading and unloading, installation, commissioning, acceptance, training, maintenance and other services. Looking forward to your inquiry, for more details, please contact us with sales@dieselgeneratortech.com