Jan. 14, 2021
Recently, our customer Ms. Jeanine Yanga from Congo purchased 2 sets of 200KVA silent diesel generator from our company. These two generators will be used for residential buildings. Thanks for the customer's cooperation.
These two sets of 200KVA silent diesel generator are equipped with DCEC Cummins engine, Stamford alternator and SmartGen 6110 controller.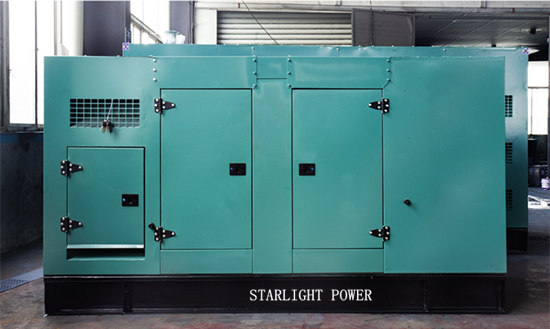 A.Complete Genset-200KVA
1.Make/ model: China/XG-160GF
2.Manufacturer: Jiangsu Starlight Electricity Equipments Co.,Ltd
3.Output power: 200KVA
4.Max Ambient temperature: 40 ℃
5.Max Altitude: 1500M
6.System Voltage: 230/400V, Y connected
7.Power factor: 0.8lag
8.Power system: 3 phase 4 wire
9.Frequency/speed: 50Hz/1500RPM
10.Fuel type: diesel
11.Guarantee: 1 year or 1000 running hours, whichever comes first
12.Daily tank: base bottom fuel tank for 8 hours' operation
13.Noise level: 75 dBA at a distance of 7 meters
14.Protection level of silent cabinet: IP45
15.Dimensions: 3500x1400x1800mm
16.Net weight: 2600kg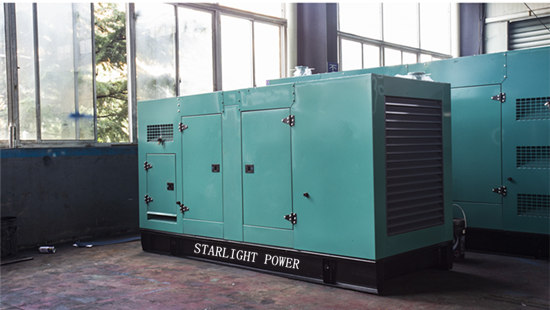 B.Diesel engine
1.Make/model: China/ DCEC Cummins 6CTA8.3-G1
2.Manufacturer: Dongfeng Cummins Engine Co.,Ltd
3.Engine type: Turbocharged & aftercooled, 4 stroke, inline
4.Output power: 183KW
5.Frequency/speed: 50Hz/1500RPM
6.Type of Governor:Electronic
7.Type of starting: 24V DC
8.Type of cooling: water-cooled with radiator/fan
9.Fuel consumption: 48L/h
10.Air filter, oil filter, fuel filter, exhaust pipe, battery, battery charging alternator, exhaust system, lube oil system, coolant system, electrical system etc. including all all other needed accessories.
C.Alternator
1.Make/model: China/ Stamford UCI 274H14
2.Manufacturer: Cummins Generator Technologies(China) Co.,Ltd (joint venture with USA Cummins)
3.Rated voltage: 400V
4.Power factor: 0.8lag
5.Type: Brushless, self-excited
6.Percentage regulation:± 1%
7.Insulation class: H
8.Protection level: IP23
9.AVR type: digital
10.Sustained short circuit: Series 4 control does not sustain a short circuit current.
11.Stator winding:double layer concentric
12.Winding leads: 12
13.Wingding pitch: two thirds
D.Control panel
1.Make/model: China/ HGM6110N
2.Manufacturer: SmartGen(Zhengzhou) Technology Co.,Ltd
3.Type: Single unit automation + remote signal start/stop
4.Controller information:
a.Can measure and display 3 phase voltage, 3 phase current, frequency, power parameter of mains/gens;
b.Mains have functions of over/under voltage and lack of phase; Gens have functions of over/under voltage, over/under frequency, over current and over power;
c.Precision measure and display of parameters about engine;
d.Control protection: Automatic start/stop of genset, load transfer(ATS control) and perfect failure display and protection;
e.Multi sensors of temperature, pressure and fuel level can be used directly, parameters can be defined by user;
f.Add rubber gasket between shell and controller screen, the waterproof can reach IP55.
More details, please see controller datasheet.
Starlight DCEC Cummins series diesel genset has the advantages of small volume, light weight, low fuel consumption, high power, reliable operation, convenient accessory supply and maintenance. Electronic governor is adopted, which has the protection functions of high cooling water temperature, low oil pressure, overspeed alarm and automatic shutdown.
Starlight series Cummins diesel generator set is officially authorized by Cummins company. It has better performance, better quality and more guaranteed service among similar products. If you have plan to buy diesel generators, we highly recommend it. More information, welcome to contact us by email sales@dieselgeneratortech.com, or call us by mobile phone umber +8613481024441 ( same as WeChat).