Mar. 16, 2022
Recently, Starlight Power and Yulin Evergrande City Jinbi Real Estate Co., Ltd., a subsidiary of Evergrande Group, have successfully signed a 360KW and a 400KW Yuchai diesel generator set, both of which are used for emergency backup power supply for the second phase of Yulin Evergrande City project.

It is understood that Starlight Power, as the only supplier of diesel generator sets for Evergrande Group, has supplied hundreds of diesel generator sets for Evergrande Group. The project of this Starlight Power cooperation is the "Evergrande City" project of Evergrande Group's strong entry into Yulin. It is located in the city's commercial and trade center and enjoys two major traffic roads, Second Ring North Road and Qingning Road.
The project is located by the 2,300-acre Niuyunling Park. At the same time, it creates a 7,700-square-meter European-style garden, a 1,200-square-meter central inner lake landscape, a 2,300-square-meter European-style commercial street, and more than 600 fine-work standards to build elite residences. Thanks to Evergrande Group and its subsidiary Yulin Evergrande City Jinbi Real Estate Co., Ltd. for choosing Starlight Power as the supplier for this diesel generator set procurement project, and thanks to Evergrande Group for its support and trust in Starlight Power all the way.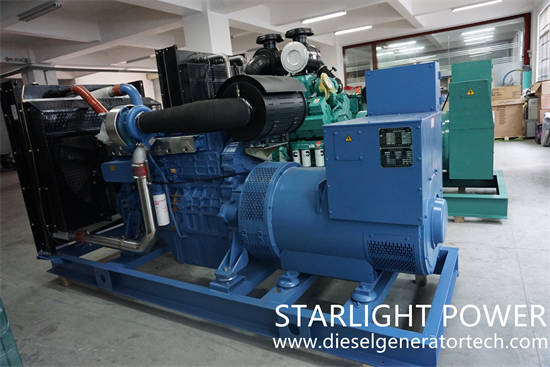 The Yuchai diesel generator set purchased by this user is a high-quality Yuchai engine produced by Guangxi Yuchai Machinery Group Co., Ltd., which is known as "Yuchai Machine, Ace Power". It has the advantages of compact structure, large power reserve, stable operation, good speed regulation performance, low fuel consumption, low emission and low noise.
Jiangsu Starlight Electricity Equipments Co.,Ltd. is one of the earliest manufacturers of generators and diesel generator sets in China. The company was established in 1974 and the company occupies an area. With an area of 86,000 square meters and a building area of 45,000 square meters, it has 64 sales and service departments across the country to provide users with one-stop service of design, supply, debugging and maintenance at any time. Welcome customers to come to consult and visit. Looking forward to your inquiry, please send email to us for details sales@dieselgeneratortech.com