Apr. 03, 2020
On 31th March 2020, Starlight Power manufacturer exported one 800KW container silent diesel generator set to Thailand, shipment port is Shanghai China.
The 800KW container soundproof genset purchased by the user is matched with the high-power diesel engine produced by Yuchai and Wuxi Stamford generator. It has the advantages of compact structure, convenient operation, stable operation, low fuel consumption, low noise, etc. all performance indexes meet the requirements of CE, ISO9001, ISO14001 etc. In particular, the unit's container sound case has very high performance in noise reduction, rain proof, dust-proof, heat insulation, fire prevention, rust prevention and other aspects.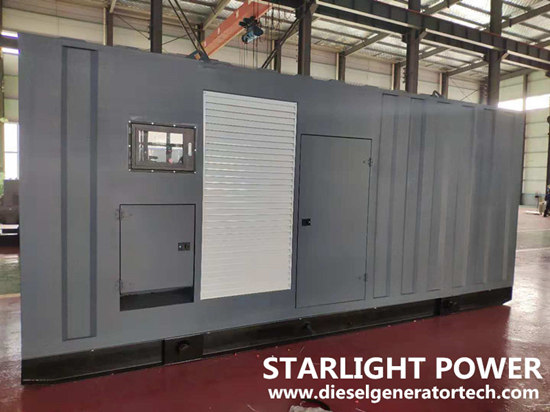 1.800kw container silent diesel generator set technical specifications
Genset model: XG-800GF
Prime power/capacity: 800kw/1000kva
Standby power/capacity:880kw/1100kva
Rated current: 1440A
Rated voltage: 220V
Rated speed/frequency: 50Hz/1500rpm
Power factor: 0.8lag
Noise level: 75dB at 7 meters
Steady state voltage regulation rate: ≥±2.5%
Transient voltage regulation rate: ≤+25% , ≥-15%
Voltage stability time : ≤3s
Voltage fluctuation rate: ≤ ±0.5%
Frequency stability time: ≤6s
Frequency Waving: ≤1.5%
Steady state frequency regulation rate: ≤0.5%
Transient frequency regulation rate: ≤ ±5%
Frequency volatility rate: ≤1%
2.Yuchai diesel engine technical specifications
Engine: Yuchai YC6C1320-D31
Prime power/capacity: 880kw/1100kva
Standby power/capacity:960kw/1200kva
Rated frequency: 1500rpm
No. of phase & wire: 3 phase 4 wire
3.Wuxi Stamford Alternator technical specifications
Model: LVI634E1
Protection: IP23
Overload: PRP)110% load can run 1 hour
Excitation mode: Brushless and self-exciting
Voltage Regulation: AVR automatic voltage regulation
Guangxi Yuchai Machinery Co., Ltd. (hereinafter referred to as Yuchai Co., Ltd.) founded in 1951, is the first Sino foreign joint venture in the domestic industry to be listed abroad. Headquartered in Yulin City, Guangxi, the company has 11 subsidiaries. Its production bases are located in Guangxi, Jiangsu, Anhui, Shandong and other places. It is an internal combustion engine manufacturing base with complete product types and wide application fields in China. Its annual sales revenue is more than 20 billion yuan and the annual production capacity of the engine is 600000 sets.
Starlight Power manufacturer has cooperated with Yuchai company for many years, we are OEM supplier of Yuchai diesel engine of generator set. In recent years, our sales of genset with Yuchai engine are very good at home and abroad. Power range is from 20kw to 3000kw, contact us to get more information.