Mar. 27, 2021
Recently, our Singapore customer purchased 4 sets of prime 220kw Cummins silent diesel generators with us. These 4 sets genset will supply power for Barge.

Considering convenient maintenance in future, we recommend Cummins engine and Stamford alternator for the genset. Cummins has service center in Singapore, if the main part-diesel engine and alternator has faults, maintenance personnel can come to help repair.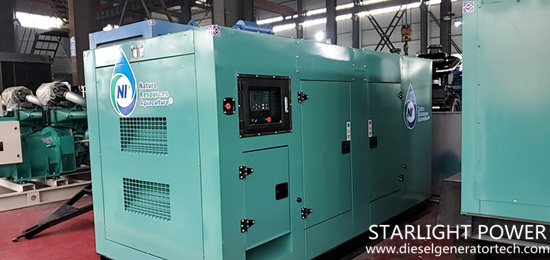 Technical specifications of 220kw Cummins silent generator
1.Diesel Generator Set
Manufacturer: Jiangsu Starlight Electricity Equipments Co.,Ltd
Model: XG-220GF
Type: silent type
Emission: Euro Stage III
Prime/standby power: 220kw/ 242kw
Rated Current: 396A
Rated Frequency: 50Hz
Rated voltage: 230/400V
Power factory: 0.8lag
Start mode: Electric
Dimension (LxWxH): 3600x1600x2000mm
Weight: 4200kg
Noise level: 75dBA at 7m
Warranty: 1 year or 1000 running hours after delivery, whichever comes first.
Accessories include 24V DC start-up battery(maintenance free), base bottom fuel tank for 8 hours continuous operation, silencer, shock-reducing rubber, 230V heater for alternator, user manual,etc.
2.Diesel Engine
Manufacturer: Dongfeng Cummins Engine Co.,Ltd
Model: QSL8.9-G4
Prime/ Standby Power:235KW/ 258KW
Rated Speed: 1500rpm
Air intake type:Turbocharged and Air to Air Intercooled
Start mode: Electric start
Cylinder Arrangement:6 inline
Displacement: 8.9L
Bore and Stroke: 114*144.5(mm)
Compression Ratio: 17.73:1
Governor Type: Electric
Start battery voltage: 24V DC
Fuel consumption( rated prime load ): 100%: 60L/h, 75%: 51L/h, 50%:37L/h
Min. Oil system Capacity: 23L
Total Coolant Capacity: 11.1L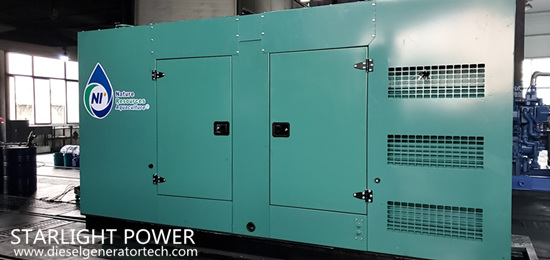 3.AC Alternator
Manufacturer: Cummins Generator Technologies( China) Co.,Ltd
Model: Stamford S4L1S-D41 ( with heater)
AVR type: AS440
Voltage regulation: ±1%
Excitation type: Self-Excited
Insulation system: Class H
Stator winding: Double Layer Lap
Winding pitch: Two Thirds
Winding leads: 12
Winding number: 311
Number of poles: 4
IP rating: IP23
Waveform distortion: No load < 1.5% non-distorting balanced liner load< 5.0%
Short circuit ratio: 1/Xd
Frequency: 50Hz
Telephone interference: THF<2%
STAMFORD industrial alternators meet the requirements of the relevant parts of the BS EN 60034 and the relevant section of other international standards such as BS5000, VDE 0530, NEMA MG1-32, IEC34, CSA C22.2-100 and AS1359. Other standards and certifications can be considered on request. Alternators are manufactured using production procedures having a quality assurance level to BS EN ISO 9001
4.Control Panel
Manufacturer: SmartGen
Model: HGM6110CAN
Automatic controller, integrating digital, intelligent and network techniques, is used for automatic control and monitoring system of genset. It can carry out functions of automatic start/stop, data measurement, alarm protection and three "remote" (remote control, remote measure and remote communication). The controller uses LCD display, optional display interface including Chinese, English, Spanish, Russian, Portuguese, Turkey, Polish and French with easy and reliable operation.
Starlight Power company has been authorized as OEM supplier of Cummins engine for diesel generator set in China since 2001. Between 2010 and 2017, our Cummins genset won the National sales Championship for eight consecutive years, becoming Cummins largest OEM cooperative manufacturer in China.
Starlight Power company has a management team with advanced consciousness, strong and proficient business, taking the establishment of high-tech innovation enterprises as the starting point, insisting on "high starting point, high technology, excellent service", and actively collecting and absorbing advanced technology and advanced products at home and abroad. Constantly update the products. In recent years, the company has cooperated extensively with Swedish Volvo, American Cummins, British Perkins, German Deutz, Korea Doosan, German MTU, Ricardo, Shangchai, Yuchai, Weichai, Jichai, Tongchai, and Wudong and so on companies, and has become OEM supporting factory and technology center, has laid the solid foundation for the development of international market.
If you have purchase plan of diesel generator set, welcome to contact us by email sales@dieselgeneratortech.com, we believe we can provide high performance product for you.