Jan. 14, 2022
As we all know, SF Express is a leading comprehensive express logistics service provider in China and an intelligent logistics operator with the advantage of network scale. After years of development, SF Holding has formed a comprehensive logistics service network with three networks of "Skynet + Ground Network + Information Network", which can cover domestic and overseas, providing customers with warehouse management, sales forecasting, big data analysis, financial management, etc. package solution. The construction of such a powerful logistics system requires a series of complete equipment to ensure the operation of the entire system, of which diesel generator sets are an indispensable part. After an all-round and multi-round long-term investigation in the purchase of diesel generator sets by SF Group, Shangchai finally won the championship by virtue of its super reliability, excellent product performance and exquisite appearance design, and successfully won the bid to become the supplier of SF Express diesel generator sets.

In the field of diesel generator sets, Shanghai Diesel currently has seven series of R/H/D/G/W/E/K diesel generator sets, and has also developed marine diesel generator sets. Shangchai generator sets are not only of diverse series and complete power, but also widely used in various fields of society.
The reason why Shangchai diesel generator sets are favored by major customers such as warehousing and logistics, data centers, railway groups, well-known real estate companies, ships and yachts, hospitals and shopping malls is inseparable from the high standards and strict requirements of the products themselves. Shangchai spares no effort to build a quality management system, in order to allow users to use reliable and reliable high-quality products.
Shangchai strictly controls the quality to ensure that every manufactured product is a high-quality engine that exceeds the qualified level. For the cylinder block, cylinder head, crankshaft and other key components of the engine, the dimensional accuracy is tested by precise numerical control measuring equipment.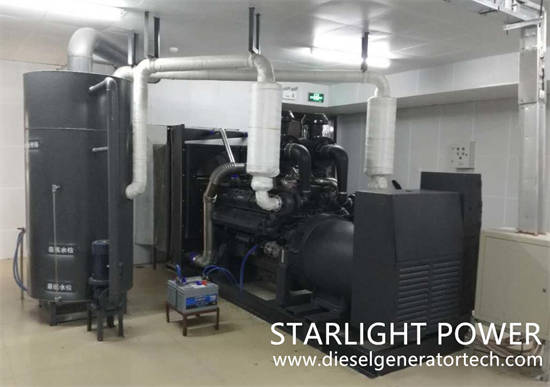 In addition to the strict control of product quality, Shangchai has also achieved the ultimate in engine performance tests. The first is the durability test for new products, and secondly, each new product is subjected to high temperature, high altitude, and high cold tests under specific environmental conditions to ensure that the products can adapt to various harsh working conditions.
And so on, all kinds of rigorous tests have only one purpose, that is, to let customers use reliable and reliable high-quality products. As one of the best express delivery companies in the country and even in the world, SF Group chose to cooperate with Shanghai Diesel Power this time, which is not only the recognition of the products and services of Shanghai Diesel, but also the trust of the brand of Shanghai Diesel.
Jiangsu Starlight Electricity Equipments Co.,Ltd. is an OEM partner of Shangchai for many years. It has more than 40 years of experience in the production and manufacturing of diesel generator sets. It can provide users with various specifications of 15KW-2500KW. And other high-quality, low-energy generating sets to meet all customers' power needs. In addition, it can also meet the requirements of users with different voltages and different frequencies, as well as the power supply system of multiple units connected to the network. There are 64 sales and service departments nationwide, providing long-term technical consultation, free debugging, free maintenance, and free training services for users. Welcome contact us by email sales@dieselgeneratortech.com