Jiangsu Starlight Sold 1600kW Perkins Diesel Generator Set
Sep. 16, 2022
On September 10th, 2022, Jiangsu Starlight Electricity Equipment Co.,Ltd sold one set of 1600kw Perkins diesel generator, it is used for a hotel as emergency power supply.
This prime power 1600kw diesel genset is powered by Perkins engine 4016-61TRG2, Leroy Somer alternator LSA52.3 S6.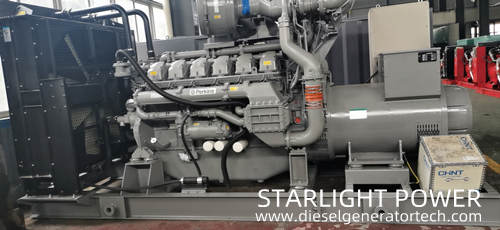 The Perkins 4000 Series family of 6, 8, 12 and 16 cylinder diesel engines was designed in advance of today's uncompromising demands within the power generation industry and includes superior performance and reliability. The 4016-61TRG ElectropaK is a newly developed turbocharged, air-to-water charge cooled, 16 cylinder diesel engine. Their premium design and specification features provide economic and durable operation as well as exceptional power to weight ratio, improved serviceability, low gaseous emissions, overall performance and reliability essential to the power generation market.
Specifications

Supplier

Jiangsu Starlight Electricity Equipment Co.,Ltd

Model

XG-1600GF

Prime Power

1600KW/2000KVA

Standby Power

1760KW/2200KVA

Rated voltage

400V

Rated current

2880A

Power factor

0.8LAG

Frequency

1500RPM

Speed

50Hz

Engine model

Perkins 4016-61TRG2

Prime power of engine

1774KW

Standby power of engine

1985KW

Number of cylinders

16 60º Vee form

Bore and stroke

160 x 190 mm

Displacement

61.123 Liters

Aspiration

Quad turbocharged. Air to water

charge cooled

Cycle

4 stroke

Combustion system

Direct injection

Compression ratio

13.6:1

Rotation

Anti-clockwise, viewed from flywheel end

Total lubricating capacity

237.2 litres

Cooling system

Water-cooled

Total coolant capacity

215 litres

Fuel consumption at 1500 rpm (l/hr)

Standby power(maximum)

477

Prime power

422

Baseload power

342

75%

318

50%

216

25%

116

Alternator

Leroy Somer LSA52.3 S6

Prime power of alternator

1600KW

Standby power of alternator

1760KW

Insulation class

H

Winding pitch

2/3 (wind. 6S)

Number of wires

6

Protection

IP23

Excitation system

AREP + PMI

AVR type

D550

Voltage regulation (*)

±0.25%

Short-circuit current

300% (3 IN) : 10

Total Harmonic Distortion THD (**) in no-load

< 4%

Waveform: NEMA = TIF (**)

< 50

Waveform: I.E.C. = THF (**)

< 2%

Overspeed

2250 R.P.M

Altitude

≤1000M

Air flow

2.5 m3/s (50 Hz) - 2.8 m3/s (60 Hz)
Starlight Power has advanced testing equipment, modern production technology, professional manufacturing technology, perfect quality management system, and strong technical research and development capabilities. It can provide 3KW~2500KW various specifications of ordinary, automatic, four protection, automatic switching, low noise and mobile generator sets, high quality and low energy consumption to meet the diverse power needs of customers, and can also meet users with different voltages and different frequencies. It is required to create a parallel power supply system for multiple units. If you are interested in Perkins generator or any question on generator, welcome to send email to sales@dieselgeneratortech.com.