Jul. 29, 2021
Today we will give you a brief introduction about how to improve the efficiency of Volvo diesel generator sets in the summer. Now, let's begin.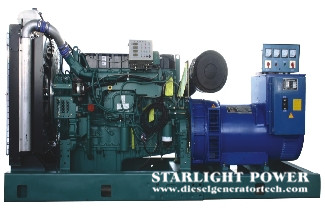 The Volvo diesel generator set used in the engine room must increase the air intake, increase air convection, and effectively cool the temperature of the Volvo diesel generator set to maintain working efficiency. If necessary, using a fan to cool the unit is also an effective way to cool the unit.
Now that effectively reducing the engine temperature can improve the working efficiency of Volvo diesel generator sets, qualified users can reduce the engine temperature by increasing the amount of coolant. The high temperature in summer and the hot sun are the direct heat source. Therefore, it is strictly forbidden to use Volvo in summer. Diesel generator sets are used when exposed to the sun, especially Volvo diesel generator sets used on construction sites can be provided with shade measures.
Volvo diesel generator sets working at high temperatures appropriately reduce the load. Effective load control is the fundamental measure to control the temperature rise of Volvo diesel generator sets, so as to avoid sudden temperature rises during heavy load operation, which will greatly affect the power of Volvo diesel generator sets and affect Volvo diesel power generation. The working efficiency of the unit.
How to improve the efficiency of diesel generators in summer? In short, reducing the temperature of Volvo diesel generator sets can improve working efficiency. All measures and methods to cool the temperature of Volvo diesel generator sets can improve the working efficiency of Volvo diesel generator sets.
Jiangsu Starlight Power Generation Equipment Co., Ltd. was founded in 1974 and is one of the earliest manufacturers of generators and diesel generator sets in China. The company has a registered capital of 218.88 million yuan. The company covers an area of 86,000 square meters and a building area of 55,000 square meters. There are more than 660 employees, including 456 professional technicians and 106 senior technicians. It has 46 sales and service outlets nationwide. The main products are diesel engines, generator sets, and diesel generators, providing users with a one-stop service of design, supply, debugging and maintenance at any time. Starlight has always insisted on using first-class talents, building first-class enterprises, manufacturing first-class products, creating first-class services, and making every effort to build a first-class domestic enterprise. If any question please feel free to visit our website https://www.dieselgeneratortech.com/ or send email to sales@dieselgeneratortech.com.