Oct. 19, 2020
As one of OEM supplier of Cummins engine for generator set, Starlight Power would like to share a good news with you.

Recently, Cummins announced that the lean burn gas generator set has been granted the European grid code (GCC) certification, becoming the first company to obtain the independent certification in the power generation industry.
Cummins gas generator sets with GCC certification cover 0.5-2mw, including the newly released HSK789 and C25G series gas generators, and some models of the traditional QSK60G series. The performance of all gas genset has been tested, evaluated and verified by DNV GL, an independent third party certification body in Germany. Over the past two years, DNV GL has tested high-efficiency gas generating units in parallel with the grid to ensure that these products comply with all the latest stringent regulations in Europe and the United Kingdom on grid interconnection.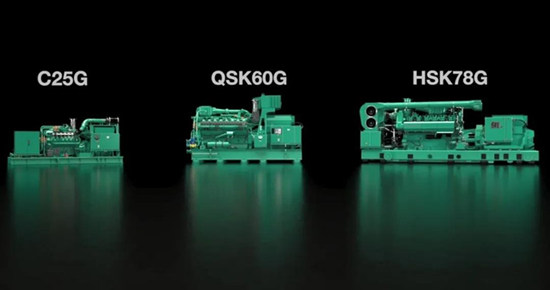 In order to obtain GCC certification, DNV GL, in collaboration with Cummins professional engineering team, has carried out a considerable number of tests and analyses, including testing and recording the parallel operation of gas generating units with the national grid of the United Kingdom under hundreds of grid fault conditions. Therefore, the projects of Cummins gas generating sets can be connected to the grid without delay. As part of the certification process, Cummins completed the simulation modeling and made it a core product capability. This additional feature not only facilitates customer field installation, but also allows better monitoring of generator performance at the site.
Cummins power generating set are not only strong and reliable, but also fully comply with the latest European grid regulations stipulated by the European power transmission system operator network (also known as ENTSO-e). In addition, Cummins has obtained various certifications including RFG, German VDE 4110 and UK G99. Additional specific tests have also been completed to ensure that Cummins gas generating units can meet the regional specifications that may be issued by other European member states in the future, exceeding the current requirements of GCC. As a result, customers do not need to complete additional testing and validation to meet European performance standards
"The equipment certification of the three series products provides Cummins with the third-party certification meeting the grid connection requirements. Especially for entering new markets, this is an important step to improve network access and resource utilization, which will help to improve the stability of the grid when expanding the share of distributed generation. " Said Bernard henzer, director of compliance certification for DNV GL energy grid code.
"This independent third-party grid code compliance certification is a huge milestone for Cummins and an important competitive advantage. It recruits the performance value package of our existing gas generator set. This achievement demonstrates once again our ambition to provide customers with innovative, mature and integrated natural gas solutions to meet their gas and distributed generation needs. " Cummins gas business head said.
Cummins rarefied gas-fired generator sets with a power of up to 2MW are designed to provide reliable power for mining, manufacturing, shopping malls and hospitals. While achieving low cost, it constantly breaks through the limits of efficiency and performance. The whole series of generator sets break through the fuel barrier and have greater flexibility. They can turn kitchen waste, sewage, waste gas and other traditional wastes into renewable energy, which used for power generation or CCHP.
In addition to the powerful product series, Cummins also provides customers with thoughtful service and maintenance. Service technicians, engineers and parts distribution centers all over the world are experienced in providing and maintaining natural gas solutions to meet customers' natural gas power needs.
Starlight Power has cooperated with Cummins for many years, our genset with Cummins engine is the most popular and best sales performance among our other series generators. We have won Cummins best selling performance award. If you have purchasing plan of Cummins generators, welcome to contact us by email sales@dieselgeneratortech.com, we will work with you.