Apr. 25, 2019
Since Cummins launched the Non-Road EU Stage V power series at Bauma 2016 International Construction Machinery Exhibition in Germany, the F3.8 to X15 light, medium and heavy series have all achieved mass production. More than 200 machine equipment supporting projects have been successfully completed or in progress, much smoother than at Stage IV upgrade. Customers benefit from this, and the cost reduction and efficiency increase is remarkable.
While Cummins is busy developing alternative energy sources such as hybrids, electrics, and fuel cells, non-road Stage V diesel engines are still a business focus. According to Alexei Ustinov, vice president of Cummins' non-road engine business, Cummins Stage V power will remain the focus of the show at Bauma 2019.
Cummins Stage V series engines present higher power and torque, lower complexity, easier installation, and less maintenance. This offers Cummins OEMs the ability to increase machine capability. The main equipment thus gains more room for performance improvement and provides more value. It can save installation space and reduce the cost by selecting a small-displacement engine with high power.
Stage V B6.7 is Cummins' century-old innovation (Cummins B-series platform has produced more than 15 million units) and the power is increased to 326 hp (243 kW). The B6.7 offers 30% higher torque than Stage IV with 243 kW of power output, which can replace higher displacement equivalent power engine.
At Bauma 2019, Cummins also brings its Stage V F3.8 power units, complete with ready-to-use components, includes engine, Single Module aftertreatment, radiator and cooling system, as well as auxiliaries such as mounting feet, hoses and air filters. The unit is more than 70% pre-approval for installation, saving customers' integration time and resources. Cummins Stage V engines and power units range from 100 to 675 hp ( 75 to 503 kW).
Stage V Mining Engine
Stage V emission standard limits engines above 750 horsepower (560 kW) for the first time in 2019.
The Cummins mine QSK series engine with a power range of 750 to 3,500 horsepower (560 to 2611 kW). Cummins will launch the QSK60 Stage V high-horsepower new engine with power of 1875 to 2850 hp (1398 to 2125 kW) at bauma 2019. It is the ideal power for excavator and dump truck, with excellent durability and long overhaul period. The regular fuel consumption is nearly 4.2 million liters (equivalent to 1.1 million US gallons).
Reduce particulate matter to Stage V emissions levels with a newly designed power cylinder, optimized wastegate turbocharger and crankcase ventilation system. By using a modular selective catalytic reduction post-treatment unit (SCR), a unique integrated decomposition chamber configuration and a non-gas-assisted urea injection system help to extend engine life while reducing nitrogen oxides (NOx) emissions. Cummins SCR aftertreatment system reduces engine back pressure, improves fuel economy, optimizes temperature management, and minimizes urea consumption.
The two-stage QSK60 engine features a compact intake air handling system using Cummins turbochargers and intercoolers to achieve an altitude capability of over 3,500 meters with easy access to the top end for servicing.
With the latest NanoNet® nanofiltration technology, it removes more harmful particles than conventional media, effectively extending the life of fuel pumps and injectors and providing better durability.
Cummins North America Tier 4 Final cylinder combustion optimization and emission technology have laid a good foundation for the European Stage V upgrade, minimizing the impact on host equipment. Cummins High Horsepower QSK series engine has a long reputation for the reliability and durability. It can provide reliable guarantee for emission upgrades by adopting mature SCR post-processing technology.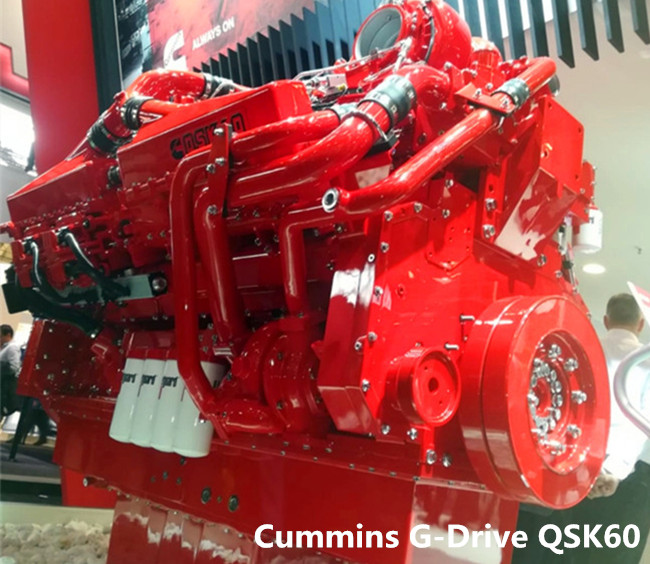 Stage V G-Drives Cummins Engine for Generator Set
The Stage V engine for constant speed generators introduced by Cummins at bauma exhibition continues the advantages of variable speed Stage V engines with high-density and low-complexity (with a simpler after-treatment system without installing waste gas recycling) and is further optimized according to the application characteristics of the generator set.
Due to the enhanced power performance of Cummins, it provides the opportunity to select a smaller displacement engine in the same power section for G-Drive OEMs, making installation easier.
Cummins first introduced the B6.7 and L9 standby and prime power for 50 Hz and 60 Hz generator sets (see the list for power), will be followed by other series of engines.
G-Drive ratings as follows:
G-Drive Ratings

B6.7

L9

Standby By

Prime

Stand By

Prime

50Hz

165-239KVA

155-225KVA

275-320KVA

259-301KVA

132-191kWe

124-180kWe

220-256kWe

207-241kWe

60Hz

188-257KVA

177-242KVA

281-341KVA

265-322KVA

150-200kWe

140-190kWe

225-275kWe

212-259kWe