Aug. 17, 2022
On August 15, Starlight Power and Liuzhou Nancheng Department Store Co., Ltd. Rongan Branch successfully signed a 300KW Yuchai generator set. This unit is used for emergency backup power supply of Nancheng Department Store, Rong'an County, Liuzhou City. The unit is powered by a diesel engine produced by Yuchai and equipped with a high-quality motor produced by Starlight Power. The product has the advantages of compact structure, convenient operation, balanced operation, low fuel consumption, and low noise.

Guangxi Nancheng Department Store Co., Ltd. was established in November 2001 with a registered capital of 123 million yuan. It is a large-scale private retail chain enterprise. It is also the first batch of functional headquarters enterprises certified as a regional international headquarters base in Nanning, the capital of Guangxi. After more than ten years of development, the company currently has 38 chain stores in major cities such as Nanning, Liuzhou, Guilin, Guangxi and Kunming, Yunnan, with a total operating area of more than 420,000 square meters. Mainly engaged in three formats of large supermarkets, household appliances, boutique department stores. Thank you to Guangxi Nancheng Department Store for choosing Starlight Power as the procurement supplier for this diesel generator set procurement project! Thanks to Guangxi Nancheng Department Store for its support and trust in Starlight Power.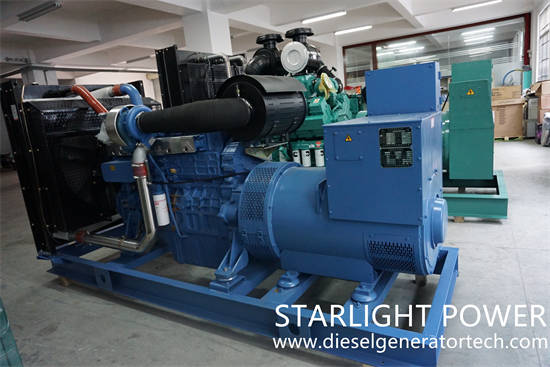 Jiangsu Starlight Electricity Equipments Co.,Ltd. is one of the earliest manufacturers of generating sets in China. It has first-class testing equipment, advanced production technology, professional manufacturing technology, perfect quality management system, and strong R&D technical strength. It can provide 3KW-2500KW various specifications of universal, automatic, four protection, automatic switching, low noise and mobile, etc., high-quality, low-energy generating sets to meet all customers' power needs, and can also meet users' different voltages and different frequency requirements, as well as the parallel-connected power supply system of multiple units, use excellent talents to build excellent enterprises, create excellent products, create excellent services, and strive to build excellent domestic enterprises. For more product details, please contact us with sales@dieselgeneratortech.com.