Congratulations To Starlight Power For Signing 202KW Generator Set
Aug. 19, 2022
On August 8, Starlight Power and Nanning Qianyi Daguan Investment Co., Ltd., a subsidiary of Jiangyu Group, successfully signed a 202KW Cummins generator set. The unit is used for emergency backup power supply for the wedding industrial park of Jiangyu Dream Town Subproject. This is the fourth unit signed by Jiangyu Group and Starlight Power.

Founded in April 1996, Jiangyu Group is a large-scale modern enterprise focusing on real estate investment, integrating residential real estate, commercial real estate, construction engineering, commercial operation, and property management. Jiangyu Dream Town, built with great effort, is adjacent to the famous Yilingyan Scenic Area, and is a large-scale cultural and tourism project of 4,000 acres based on "happiness industry". It consists of three themed sections: Wedding Industrial Park, Luoyue National Industrial Park, and Dreamland Feiyue Camp. Among them, the wedding industry town is the core sector launched in the first phase of the project. It is equipped with a series of business formats such as wedding shooting bases, specialty restaurants, children's amusements, and wedding services. Thanks to Jiangyu Group for choosing Starlight Power as the supplier again in this diesel generator set procurement project, and thanks to Jiangyu Group for its support to Starlight Power!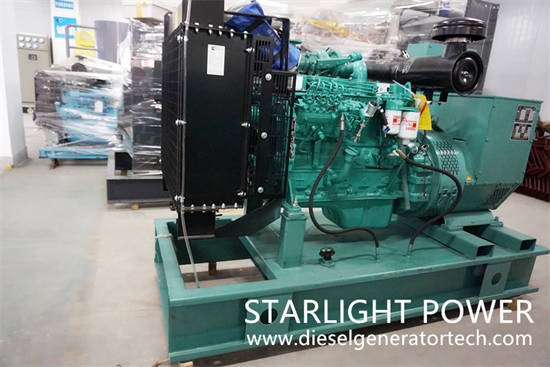 The Cummins generator set purchased by the user is an officially authorized product of Cummins Company. It adopts the Sino-US joint venture Cummins engine, which has the characteristics of small size, light weight, low fuel consumption and high power. Its reliable stability, economy, power, durability and environmental safety are welcomed by users at home and abroad. Jiangsu Starlight Electricity Equipments Co.,Ltd. has more than 40 years of experience in the production of diesel generator sets. There are 64 sales and service departments across the country to provide you with one-stop service of design, supply, commissioning and maintenance. If any question please feel free to visit our website https://www.dieselgeneratortech.com/ or send email to sales@dieselgeneratortech.com.