Dec. 29, 2021
On October 17th, Starlight Power and Guangxi Xianggui Real Estate Development Investment Co., Ltd. successfully signed two Chongqing Cummins diesel generator sets with powers of 220KW and 315KW respectively. Both of these sets were used for the emergency of Xianggui Shengtian Famous City Phase III Project backup power.

Guangxi Xianggui Real Estate Development Investment Co., Ltd. (referred to as Xianggui Real Estate) was established in April 2005 and is one of the subsidiaries of Xianggui Group. The Xianggui Shengtian Famous City project of this cooperation is located on the north bank of Qinjiang River in Jiangbei New District, Lingshan County. The project covers an area of about 300 acres, with a construction area of about 680,000 square meters, can accommodate more than 4,500 households, and has a total investment of about 1.6 billion yuan. It is the second residential benchmark project built by Xianggui Real Estate in Lingshan.
It is understood that this is the sixth cooperation between Guangxi Xianggui Real Estate Company and Xingguang Electric Power. Since the cooperation with Starlight Power in November 2014, a total of 8 diesel generator sets have been signed, with a power range of 220KW-800KW. For example, in November 2014, it purchased one 800KW diesel generator set and two 350KW diesel generator sets from Starlight Power. Purchased two 800KW diesel generator sets in April 2017. Purchased two 400KW diesel generator sets in June 2018 and so on. Thanks to Guangxi Xianggui Real Estate Development Investment Co., Ltd. for continuing to choose Starlight Power as the supplier for this diesel generator set procurement project, and thank Xianggui Real Estate for its silent support and affirmation of Starlight Power in the past 6 years.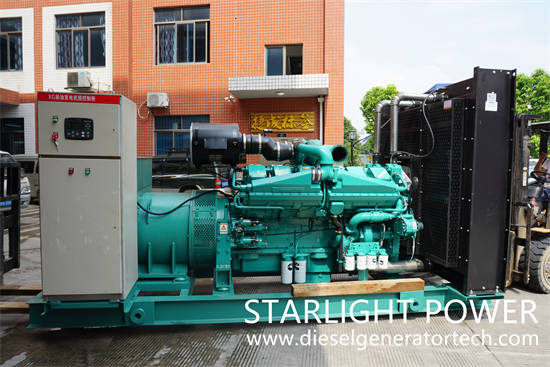 The two Chongqing Cummins diesel generator sets purchased by the user have the function of self-starting and self-shutdown. The product has good quality, low fuel consumption, low noise, high output power and reliable performance. Its excellent stability, economy, power, durability and environmental safety are well received by users at home and abroad.
In addition, Starlight Power also provides free installation, free commissioning, free training for 1-3 operators to be familiar with operating units and other services to ensure that users "buy with confidence and use with confidence."
Jiangsu Starlight Electricity Equipments Co.,Ltd. firmly believes that thoughtful service is as important as continuous innovation of product technology. Leading products must cooperate with leading services. With the purpose of "meeting user needs", Starlight Power provides users with pure spare parts, technical consultation, installation guidance, free commissioning, free maintenance, unit modification and personnel training services for users for a long time. Looking forward to your inquiry, for more details, please contact us with sales@dieselgeneratortech.com