Nov. 26, 2021
On March 3, 2020, the Middle East Electric Power Exhibition (MEE) kicked off in Dubai. Starlight's OEM partner, Cummins Generator Technology's new NEWAGE® alternator series, was shockingly released at the exhibition. Many customers and visitors came to the release site, witnessed this important moment. At the same time, the Stanford® S7 high-voltage alternator also made its debut at this Middle East Electricity Show.

Cummins new NEWAGE alternator.
The launch of the new NEWAGE® brand is the latest addition to the product portfolio of the STAMFORD® and AvK® brands. The NEWAGE® brand alternator is built based on the diverse needs of the market, with a power of 300kVA, adopts the same brand quality standards as STAMFORD® and AvK®, and shares a global support team and existing service network.
The whole series of NEWAGE® brand generators are equipped with digital AVR as standard, which maximizes the power density and saves space for standby and continuous operation through a compact and localized market design.
Cummins Generator Technology System (formerly Newage AVK) has been manufacturing electrical equipment at the main production base in Stamford, UK for nearly a hundred years. Founded in 1935, Newage International is a pioneer in the world's AC generator manufacturing industry below 5000kVA. More than 80 years have passed, and the classic NEWAGE® is our alternator brand that has been relaunched specifically to meet market demand.
In addition, the Stanford® S7 high-voltage alternator was also introduced to the market for the first time at the Middle East Electricity Show, which is a supplement to the S7 series of generators released earlier. The new Stanford® S7 high-voltage generator adopts CoreCooling™ technology, which takes into account the improvement of the internal heat dissipation performance of the fuselage, and can provide a higher power density, with a common power of up to 1625kVA. Like other S series products, S7 high-voltage generators also enjoy a worry-free three-year warranty. At the same time, the S7 high-voltage generator is equipped with a digital AVR, which further improves precision control and performance, and also brings better maintenance and operation space.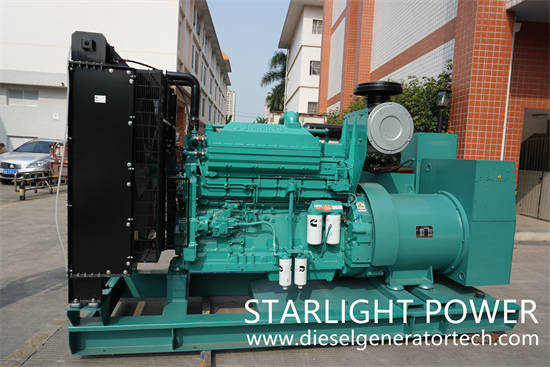 In addition to the NEWAGE® generator series and Stanford® S7 high-voltage generators were grandly released at the Middle East Electric Power Exhibition, the full range of Stanford® S family products were also exhibited on site. Cummins Generator Technology Company is committed to innovation and continuously launches generator products that meet the diverse needs of customers and the market. The newly released NEWAGE® alternator series further strengthens Cummins Generator Technology's global product layout and provides more choices for global customers and diversified market needs. NEWAGE®|STAMFORD®|AvK®, spanning a hundred years, serving the world with sincerity!
Jiangsu Starlight Electricity Equipments Co.,Ltd. is an OEM supporting manufacturer of diesel generator sets authorized by Cummins Company, and it is also a strategic partner for many years. The Cummins diesel generator set produced by Jiangsu Starlight Electricity Equipments Co.,Ltd. has the characteristics of high quality, low fuel consumption, low noise, large output power and reliable performance. Its excellent stability, economy, power, durability and environmental safety are well received at home and abroad. The Stanford generators used by Starlight's diesel generator sets come from the only manufacturer in China that produces STAMFORD® brand generators-Cummins Generator Technology (China) Co., Ltd., authentic guarantees, buy with confidence. For more details, please contact us with sales@dieselgeneratortech.com