Jun. 07, 2021
In the next decade, the largest share of the diesel genset market will be held by the commercial category under application areas. Generator sets are widely used for back-up and mains power in stores, offices, shopping centers and many other commercial establishments.
Moreover, with the high expenditure on private infrastructure and government's smart city projects, the demand for genes in the commercial sector will grow. To date, the Asia Pacific region (APAC) has been the largest market for diesel gensets, driven by increased construction activities, increased installation of low power gensets in telecom towers, and high demand for diesel gensets in the residential and commercial sectors. In addition, diesel generators are popular in China and India as an auxiliary power source in all sectors.
The diesel genset market is expected to grow the fastest in North America in the coming years. The African continent is increasingly experiencing power outages due to extreme weather events such as tornadoes and hurricanes. In addition, due to the increase in disposable income of people in Canada and the U.S., a large amount of commercial and residential space is being built. During construction and after leasing, these spaces are expected to have a large number of generators installed for backup and primary power. Next, the diesel generator supplier will share the following content with you.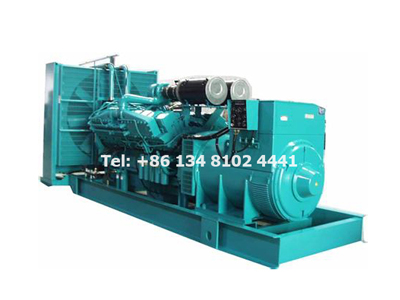 Diesel Generator
Advantages of diesel engine Cummins generators in indoor applications
Compared to gasoline engines, diesel engines are more efficient and preferred for the following reasons.
Modern diesel engines have overcome the noise and higher maintenance costs of earlier models. They are now quiet and require less maintenance than similarly sized gasoline engines.
They are more robust and reliable
There is no spark because the fuel ignites automatically. There are no spark plugs or spark wires, reducing maintenance costs
Fuel costs per kilowatt produced are thirty to fifty percent lower than gas engines.
Applications and Uses of Diesel Engines
Diesel engines are commonly used as machinery engines, generators and mobile drives. They are widely used in locomotives, construction equipment, automobiles and countless industrial applications. Their field extends to almost every industry, and if you look under the hood of everything you pass, you'll see them in action every day.
Industrial diesel engines and diesel generators have construction, marine, mining, hospital, forestry, telecommunications, underground, and agricultural applications, just to name a few. Power generation as a primary or backup backup power source is the primary application for diesel generators today.
Generators
Diesel generators or gensets are used in countless industrial and commercial establishments. Generators can be used for small loads such as homes, or larger loads such as industrial plants, hospitals and commercial buildings. They can be primary or backup/standby power sources.
They are available in a variety of sizes and dimensions. Diesel generator sets rated from 5 to 30 kW are typically used for simple household and personal applications such as recreational vehicles. Industrial applications cover a wider range of power ratings (from 30 kW to 6 MW) and are used in numerous industries worldwide. For home use, single-phase generators are sufficient. Three-phase generators are mainly used for industrial applications.