Apr. 23, 2019
SDEC National V engine shined on Shanghai Auto Show on April 19. Shangchai Power, as the power system development and manufacturing base of SAIC's commercial vehicle sector, brought its four series platform products, including R (2.5/2.8L), H (4.3/6.5L), D (5.3/8.3/8.8L) and E (10.4/11.8L), which meets National V emissions of commercial vehicles. Power covers 70 to 480 hp.
Based on the original performance, the main products are developed for customers, continuous optimization and improvement, fuel consumption (gas) continues to decrease, and the power and torque of the engine are greatly improved. In particular, in terms of emission standards, Shangchai has mastered the engine that discharges from the national IV to the national VI and can supply the national V emission standard engines in large quantities. All have the international leading technology level, which is the ideal upgrade power for domestic and foreign vehicle products.
Shangchai R series engine introduced the same product from Italy VM Company with the advantages of high power, high torque, low fuel consumption and low vibration noise. It is available in 2.5 and 2.8L models with power coverage of 101~143Ps. It is a diesel power that is the first choice for China's high-quality light passenger vehicles that combines the world advanced technology such as overhead camshaft, four-valve and variable-section supercharging systems to meet national IV and national V emission standards.
Widely used in the European market in LDV, MPV, SUV and other models. Alfa Romeo, Chrysler Voyager, Land Rover Defender, Jeep Grand Cherokee and other world-famous models are available in large quantities. The engine is horizontally and longitudinally selectable to facilitate the layout of different models; the engine and assembly are optimized and customized according to the assembly configuration and actual working conditions. It can match 5MT/6MT/6AMT multiple gearboxes; various configurations of peripheral components such as flywheel, flywheel housing, generator, air compressor, steering pump, etc. are available. The vehicle layout is flexible, and the peripherals are available with a wide range of accessories. It is suitable for many models such as light passenger, SUV, pickup truck and light truck. Synchronous optimization of power, economy and comfort to meet a variety of application needs.
In the production of H series engines, Shangchai has introduced the world's most advanced machining equipment and test monitoring system, the world's most automated assembly line. Sophisticated manufacturing process and advanced equipment ensure the superior quality and excellent performance of this engine.
The H series engine is popular in the commercial vehicle market with its small size and strong power. It has the advantages of low fuel consumption, wide power coverage, low speed and high torque. It is available in 4.3 and 6.5L models with power coverage of 120~280Ps. It is the ideal power for a new generation of environmentally friendly passenger cars and new energy buses that meet the national IV and national V emission standards.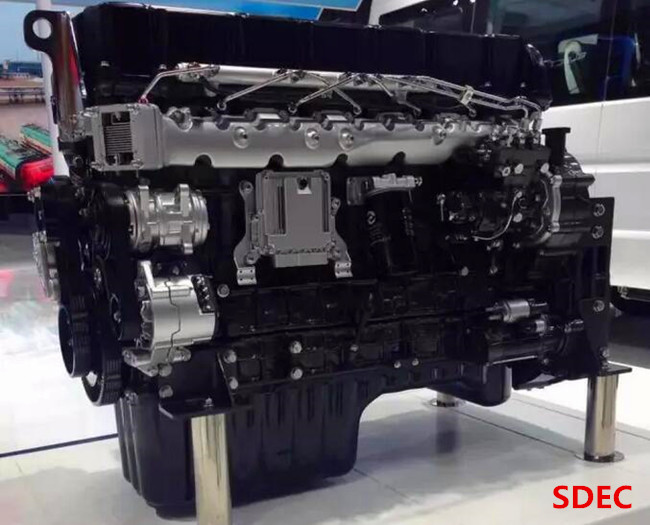 Shangchai (SDEC) H series engine is also used in power generator. Genset matching power is from 62KW to 198KW.
The H series diesel engine is jointly designed by SDEC and RICARDO (UK) based on the market demand characteristics in China and by reference to the mature technologies of advanced engines in the world. The H series is a world-class power platform developed and made in accordance with GPDP development process and the SAIC MOTOR manufacturing standards. Characterized by compact structure, wide power range, high reliability, good economy and low vibration noise.
Shangchai E Series engine is an advanced engine platform developed jointly with Austrian AVL Company with reference to the world's most advanced heavy-duty diesel engine. The products meet the needs of high-power and high-speed development of heavy-duty vehicles, and are mainly used in the heavy trucks, large luxury passenger car and diesel generator markets. The E series products have advanced technology and excellent manufacturing technology. The products have reached world-class level in terms of power reserve, reliability and fuel economy. And meet the national IV and national V emission standards and have the potential of national VI upgrade.
In the process of new product development and production, Shangchai adopts SAICMOTOR manufacturing process, introduces automatic production and assembly lines of international first-class equipment manufacturers GPDP, and adopts MES system control to ensure the good consistency and high reliability of Shangchai products.
Jiangsu Starlight Electricity Equipment Co.,Ltd has obtained the OEM authorization of SDEC company. All Shangchai diesel generators sold by Starlight are original products of Shangchai Diesel Engine Co.,Ltd. Power covers 50KW to 800KW. Alternator brand includes Stamford, Marathon, CSIC Siemens, Leroy-Somer, and Starlight AC generator, etc.