Nov. 04, 2021
On June 28, 2021, Jiangsu Starlight Electricity Equipments Co.,Ltd. and Guangxi Shengyuanbang Real Estate Development Co., Ltd. successfully signed an 800KW Shangchai diesel generator set, which will be used as emergency backup power supply for Shengbang Binjiangfu Project.

Shengbang Riverside Mansion, as a milestone work of the Shengbang Group, integrates the essence of great achievements to create a Chinese-style mansion book and presents new TOP series products to the city. The project is located in Panlong, the core location of Wuxiang CBD, with a total planned land area of 72 mu, 2.5 ultra-low plot ratio, and greening rate of 40%. There are 9 11-19F high-rise residential buildings planned.
It is understood that this is the eighth cooperation between Shengbang Group and Starlight Power. Since April 2015, it has purchased a total of 8 diesel generator sets from Starlight Power, with a power range of 400KW-800KW.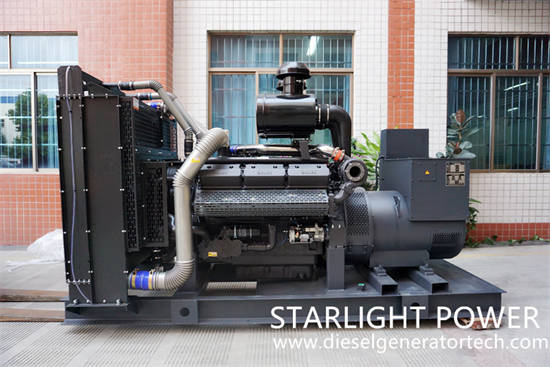 For example, a 720KW Shangchai generator set for the Shengbang Longyue project in May 2020, a 630KW Shangchai generator set for the Shengbang Xiangsong project in January 2019, and a 630KW Shangchai generator set for the Xicheng No. 1 project in July 2018. A 400KW Shangchai generator set; two 800KW diesel generator sets used in the Shengbang Longhu project in 2016 and 2015, etc. Starlight Power is honored that Shengbang Group and its subsidiaries continue to choose Starlight Power as a supplier, thank them for their support and trust in Starlight Power all the way!
The diesel generator set purchased by the user this time uses the W series engine newly designed and carefully built by Shanghai Diesel Engine Co., Ltd. to meet the high power demand of the generator set supporting market. Various technical indicators have reached the current international advanced level. The equipment has four valves per cylinder, adopts electronic speed regulation, unit pumps, and electronically controlled pumps to effectively improve combustion and emissions. It meets the national three emission standards, stable and reliable operation, and good economy.
Jiangsu Starlight Electricity Equipments Co.,Ltd. is a manufacturer of professional generators, diesel generator sets, non-moving generator sets, Cummins generator sets, Volvo generator sets, etc. It has 64 sales and service departments across the country, providing users with design, supply, debugging, and maintenance at any time. Welcome customers to come to consult and visit. Looking forward to your inquiry, please send email to us for details sales@dieselgeneratortech.com