Jan. 01, 1970
Ningxia Xinjie Natural Gas Co., Ltd. signed a 400KW diesel generator set contract with our company, and Dingbo Company arranged the production department to produce at the first time after receiving the order. The production is completed on schedule on the premise of quality and quantity guarantee. At present, the unit has been transported to Ningdong Town, Ningxia, and has been installed in place.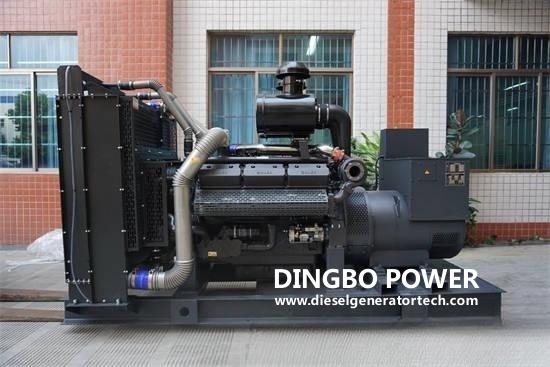 The unit is equipped with Shangchai generator set, and the engine is SC25G610D of Shanghai Diesel Engine Co., Ltd; Engine: Shanghai Kepu Motor Co., Ltd. TFW2-400-4; The controller is: Zhengzhou Zhongzhi Technology Co., Ltd. 6110. The unit is equipped with oil tank, corrugated pipe, smoke exhaust pipe (including high-temperature insulation cotton), smoke exhaust muffler, rain cap, etc.
Unit advantages:
1. The integral crankshaft, gantry body, flat cut connecting rod and short piston of Shangchai generator set are compact and reasonable in shape;
2. Shangchai generator set adopts a new type of necked combustion chamber to increase the injection pressure, improve the combustion process, and achieve environmental protection indicators: the emission value of exhaust pollutants meets the requirements of JB8891-1999, and the noise meets the requirements of GB14097-1999 with margin;
3. The lubrication and cooling system of the generator set is optimized to reduce the number of external pipelines and parts, and the overall brushless alternator is used to greatly improve the three leakage and reliability.
4. J98 and J114b exhaust gas turbochargers are used to match, which has strong plateau working ability. When used in plateau areas with an altitude of 5000m, the power decreases by less than 3%;
The above 400KW Shangchai generator set of Ningxia Xinjie Natural Gas Co., Ltd. provided by Guangxi Dingbo Power Generation Equipment Co., Ltd. has arrived, and I hope it can help you. Our company is a manufacturer specializing in the production of generators, engines and diesel generator sets, and is also an OEM supporting manufacturer of diesel generator sets authorized by Cummins generators, Perkins generator sets, Shangchai generators and other brands. It can provide 3KW-2500KW ordinary, automatic, four protection, automatic switching, low noise, mobile and other high-quality, low energy consumption generator sets of various specifications to meet all the power needs of customers. If you would like to get more information welcome to contact us via sales@dieselgeneratortech.com.