Jul. 28, 2018
On July 25, 2018, Bangladesh client Firdous visited Starlight Power factory. Starlight company foreign trade sales manager Rita and general manager Mr.Gu received the client.
First we show our company introduction and product catalogue to our client. After knowing about Starlight company background, Firdous is interested in Cummins generator 260KW 325KVA open type genset. Then sale manager and technician showed clients around our factory. The first workshop they visited is Starlight trailer generator and low noise/silent generating set manufacturing workshop. Trailer generators power range is from 20KW to 500KW. Soundproof diesel generator power we produce is from 25KVA to 1250KVA. Above 1000KW electric generator, it is usually containerized weatherproof genset.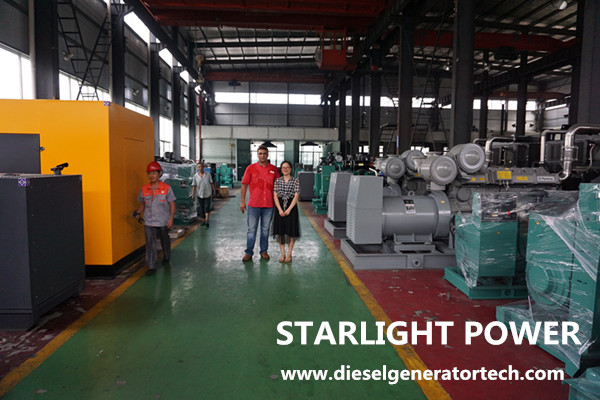 After that, Firdous followed our manager and engineer to visit our open type generator assembly workshop. Starlight generator is customized according to clients' requirements. After clients place an order, we start production. Also provide a test report to clients when the gen set is finished manufacturing. We always carry out a strict inspection before our product is delivered to clients.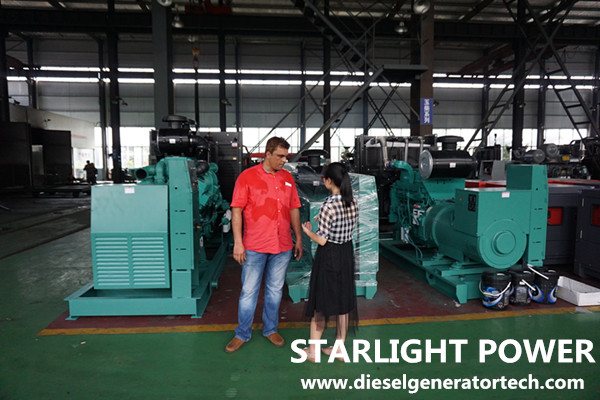 Firdous is satisfied with our generating set and also asked our engineer a lot of technical questions such as what is the feature of Cummins generator; what is the brand of controller for generator; what is the brand of alternator for the diesel generator; whether there is fuel tank installed on the base of generator that is enough to provide 8 hours fuel consumption, etc.
For client's question, manager answered one by one. Starlight Cummins series generator use the engines produced from Chongqing Cummins Engine Co.,Ltd and Starlight Power is officially authorized as Cummins diesel generator set OEM supporting factory. Cummins genset has the following characteritics:
Cylinder design is sturdy and durable, low vibration, low noise, water cooling, low thermal radiator, excellent performance, long service life, easy maintenance, smooth running, high efficiency, etc.
Intake system
Equipped with dry air filters and air resistance indicators.
Use HOLSET exhaust gas turbocharger, full intake, performance guarantee.
Exhaust System
The use of pulse dry exhaust pipe can effectively utilize exhaust gas energy and give full play to engine performance.
Equipped with exhaust elbow and bellows with diameter of 127mm for easy connection.
Fuel System
Cummins PT fuel system with unique overspeed protection.
Low pressure oil pipeline, low failure rate and high reliability.
High pressure injection, full combustion.
Equipped with fuel il supply and return oil one-way valve, safe and reliable in use.
Lubrication System
60GAL variable flow oil pump with main oil channel signal tube, according to the oil pressure of the main oil channel to adjust the pump oil quantity, optimize the oil quantity into the engine.
Low oil pressure (241-345kPa). These measures can reduce pump power loss, improve power performance and engine economy.
Power Output
Crankshaft pulley with double groove power output can be installed in front of shock absorber.
The front end of the engine is equipped with multi slot accessories for driving pulley, and all kinds of front end power output devices are available.
Auto Start & Auto Mains Failure Control Modules
Control module we can provide Deep Sea (UK brand) and SmartGen (Chinese brand).
Alternators
Alternator we can supply Stamford, Marathon, Siemens, Leroy-somer, Starlight and Engga.
Base Fuel Tank
Our generator is installed with base fuel tank that is enough to run 8 hours.
After the explanation of our engineer, Firdous is decided to choose Stamford alternator and Deep Sea 7320 control system.
Next, client continues to follow our engineer and manager to visit our engine warehouse and controller assembly workshop. Firdous asked what is difference between CCEC cummins and DCEC Cummins because they share a different appearance. It seems that DCEC Cummins has a refined appearance. Whether it is better than CCEC Cummins.
DCEC Cummins & CCEC Cummins
Dongfeng Cummins mainly produce small power engines mainly B, C and L series diesel engines, and Chongqing Cummins produce M, N and K series diesel engines. Both products comply with ISO 3046, ISO 4001, ISO, IEC 34-1, 8525 GB1105, GB/T 2820, CSH 22 0530-2, VDE and YD/T 502-502 standards. Engine surface is different, but their quality is the same.
After the visit, Firdous decided to buy 2 pieces diesel generator sets in his pipe factory. One is 260KW 325KVA CCEC Cummins NTA855-G1A prime power generator with original Stamford alternator & DSE7320 controller. Another is 30KW DCEC Cummins 4BT3.9-G2 prime power generator. Also select the same alternator and control module.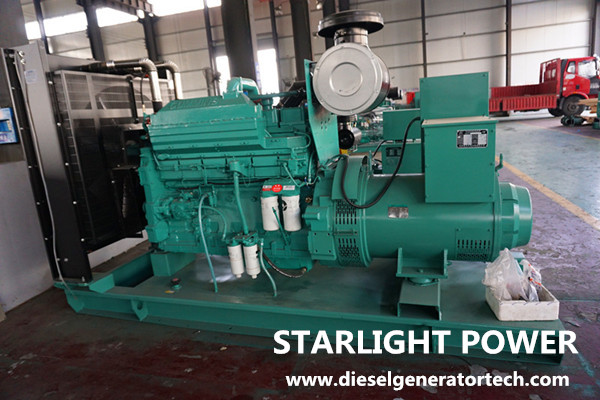 Starlight Power is a strong company, specialising in manufacturing diesel generator more than 43 years, having 64 branch offices around the country. As a professional supplier of generator, we focus on product quality and have always won the trust of our customers. Our diesel generators are used in all fields, like bank, railway, highway, hospital, and real estate, etc. If you are interested in our products, welcome to contact us. Email: sales@dieselgeneratortech.com.