Jul. 04, 2018
On 21 June, 2018, our company – Guangxi Dingbo Power Equipment Manufacturing Co., Ltd. signed 2 sets 1600KW 2000KVA big power Yuchai diesel generator with Nestle Shuangcheng Ltd (which is located in Friendship Road, Shuangcheng City, Heilongjiang, PRC). The genset style is open type generating set. The configuration is given below:
Bill of Quantities




Item name

Specifications

Quantity

Remarks

1

Generator set

1600KW/2000KVA

2

400V

2

Engine

YC12VC2700-D31

2

Guangxi Yuchai

3

Alternator

EG450-1600N

2

Guangdong Engga

4

Remote horizontal water tank

YC12VC2700-YZWS-1

2

Including cooling fan and pipe copper, water tank weighs 1.7 tons

5

Plate heat exchanger

YC12VC2700-trestle-1

2

Including valves and fittings

6

Water pump group

Q=80M3/H, H=30m

2

7

Base assembly




2




8

Daily fuel tank & oil line

1 cube

6

Contains all accessories

9

Jacket heater




2

Generating set original factory supporting

10

Charger

24V

2

SmartGen

11

Control system

DSE8610

2

Deep Sea

12

Battery

195Ah/12V

8

4 for each unit

13

Parallel line switchgear

GCK-3200A (ABB)

2




14

Parallel confluence cabinet

GCK-6300A (ABB)

1




15

Power cable

Single core 240*8

55*8*4

LSOH
Basic information about Nestle Shuangcheng Ltd
Nestle Shuangcheng Ltd, established in 1990, is a joint venture invested by Swiss Nestle Company and Shuangcheng Dairy & Food Co.,Ltd. Mainly engaged in production, packing and sales pf infant formula powder (dry-wet process), infant and other formula cereal powder (infant formula cereal powder), dairy milk powder (whole milk powder, skim milk powder), Milk powder, other dairy products (cream), beverages (solid drinks), convenience foods (other convenience foods), powder health care, etc.
We are very grateful to Shuangcheng Nestle Ltd for buying our Yuchai power generator.
Yuchai is the largest independent engine manufacturing China, with total assets over RMB 16 billion, annual sales revenue over RMB 20 billion and annual production capacity of engine is over 600,000 units.
Yuchai has four R&D centers in Nanning, Yulin, Suzhou and Europe (under construction), and holds more than 2100 authorized patents. The total number of authorized patents has ranked first for 11 consecutive years in Guangxi.
The products cover 10 platforms, 30 series and over 2000 varieties, which are widely apply to trucks, coaches, engineering machinery, agricultural equipment, marine & G-drive engines, special vehicle and light vehicle.
The production and marketing volume of engines has ranked first consecutive years in industry, and the products have been sold to more than 180 countries and regions in Asia, Europe, America, Africa and Oceania.
Since 2015, our company has been working with Yuchai Power. So far, we have been the core OEM partner of Yuchai Power in China.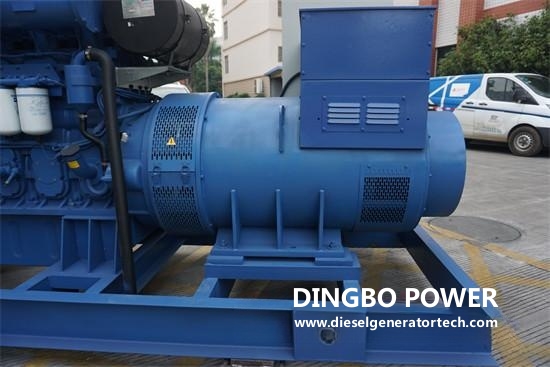 Why Client Choose Us?
As one of the earliest manufacturer of diesel generators in China, we have strong technical research and development strength, modern production technology, professional manufacturing technology, advanced detection equipment, improve the quality management system. We can provide 20KW - 2500KW various specifications of ordinary type, automatic, four protection, automatic switching, low noise, silent and portable generator sets, high-quality, low power consumption to meet the diverse needs of customers. Besides, we also supply design and construction of the noise reduction project up to the customer's requirements.
Our factory covers an area of 86,000 square meters, construction area of 11,000 square meters, more than 660 employees, including 106 senior technical staff, professional and technical personnel 456, annual production capacity of 30,000/sets. Dingbo Power Company has 24 branches and offices in China and can provide users with design, supply, commissioning and maintenance of train services at any time.
In addition, all our products are approved by CE/ISO approval and also meet ISO 8528 international standard. That's the reason why client trusts us and purchases our genset.
Introduction of Yuchai YC12VC Series G-Drive Diesel Engine
YC12VC Model Characteristics
* Electronic unit pump, four-valve structure, high-efficient turbocharged intercooled, and Yuchai combustor technologies are adopted for realizing low fuel consumption, less emission, outstanding speed governing performance, and fast and high-quality loading.
* High-strength material, reinforced grid structure with cambered surface, 4-bolt main bearing structure, are adopted for the engine body; thus the engine body is characterized by high stiffness, slight vibration, and lower noise.
* the crankshaft is made of high-quality alloy steel by using all fiber extrusion forging process, and then journal and circular bead are subject to quenching heat treatment for improving wear resistance and prolonging service life.
* the world-class equipment and technologies are used for production; thus, the quality of such model is stable and reliable.
* the structure of one head for one cylinder is adopted; maintenance window is set at the side of the engine body, which ensures easy maintenance.
* Requirements for Grade G3 generator set performance is satisfied.
YC12VC2700-D31

Technical Parameters
| | |
| --- | --- |
| Model | YC12VC2700-D31 |
| Type | Vertical, V-type, water-cooling, four stroke |
| Air intake mode | Turbocharged & intercooled |
| Cylinder quantity –bore x stroke (mm) | 12 – 200 x 210 |
| Displacement (L) | 79.17 |
| Compressionratio | 13.5:1 |
| Prime power/speed (KW/r/min) | 1805/1500 |
| Standby power/speed (KW/r/min) | 1985/1500 |
| Minimum fuel consumption rate (g/KW·h) | ≤196 |
| Engine oil capacity (dry engine) (L) | 340 |
| Engine's fuel ratio | ≤0.3 |
| Start mode | Electric start |
| Fuel system | Electronic unit pump |
| Noise Lp dB(A) | ≤106 |
| Emission | GB 20891-2014 Stage III |
| Dimension (L X W X H) mm | 3320 x 1644 x 2379 |
| Dry weight of diesel engine (kg) | 8380kg (without radiator) |