Nov. 24, 2018
On November 21, 2018, Gu Xiaoxing, General Manager of Starlight company and Wang Lu, General Manager of Starlight Guangxi Branch Office participated in the first handover ceremony of China's first largest power gas generator developed by Yuchai Group on behalf of Jiangsu Starlight Electricity Equipment Co.,Ltd.
The 450,000th units engines and 30,000th units marine power off-line ceremony of Yuchai Group was held in the large marine electrical assembly workshop of Yuchai Marine Electric Power Division.
The off-line 30,000th marine electric power is also China's first 1500kW high-speed large-bore power generation gas engine - YC12VCN. All the staff of Yuchai Group and the guests and friends attending the ceremony gathered together to commemorate this historic moment.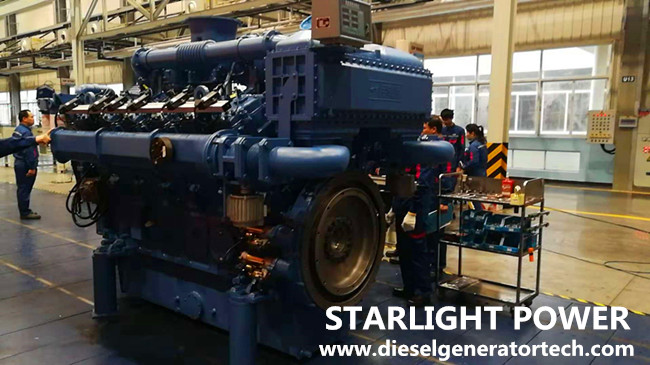 Yuchai is the leading state-level enterprise technology research and development center in the internal combustion engine industry. And it is also the first domestic company launching the micro-sedan diesel engine with independent intellectual property rights to fill the gap in the domestic industry.
Currently, Yuchai boasts 400,000 units engines in operation in the overseas market. So far, it has made its presence in over 180 countries and regions across the globe. In recent years, it has made particularly impressive breakthrough in European and US market.
Since 2013, Yuchai has planned and implemented the strategy of promoting the second venture, transformation and upgrading, adhering to the enterprise development policy of making specific efforts to strengthen and increase the size of the enterprise, with excellent power and comprehensive marketing service advantages. Outstanding achievements has been made in the market segments of trucks, passenger cars, construction machinery, agricultural machinery, marine power and power generation.
In just a few years, Yuchai's high-power marine and power generation engines market share has leapt to the first place in the industry.
Since 2014, Yuchai has carried out a comprehensive reform on the business segment of high-power marine and power generation engines from management mode, marketing channel, research and development system, production and procurement system, etc., and timely delivered YC6CA and YC8CL and YC12VC new products in response to market changes. The New products have been highly recognized by users, broke the monopoly of competitive products, made a major market breakthrough, and achieved a sales growth of over 30% for three consecutive years from 2015 to 2017.
The off-line YC12VCN is a large bore gas engine for power generation independently developed by Yuchai. Rated power is 1500kW. Emission fully meets European TA-luft standard. Compared with similar domestic models, having cut its body weight by 12%, the engine is able to save 10% gas consumption and improve power by over 20%. This model adopts high-efficiency supercharge pre-mixing and lean combustion technology. It has the characteristics of low gas consumption, low emissions and high reliability. It is currently the first largest gas engine in China. The engine is chiefly designed for 1200kW power generators and can be mainly used for oil drilling, gas exploitation and livestock breeding industry (biogas engineering) and waste disposal industry and other fields. The fuel is natural gas, biogas, biomass gas and so on.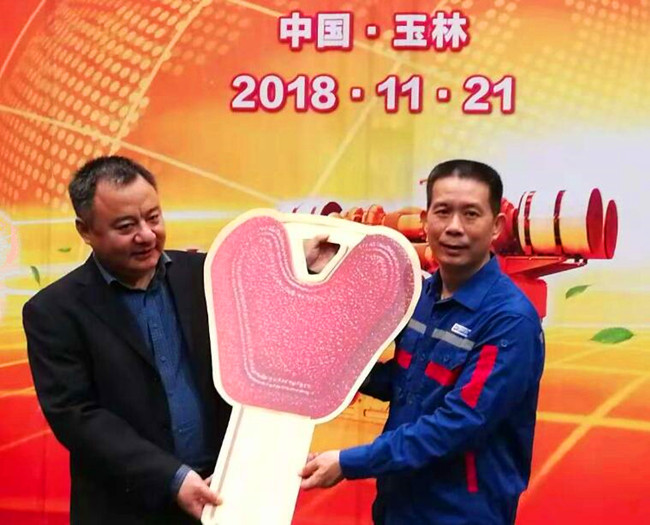 Witnessed by Yuchai Stock President Wu Qiwei and other company leaders, Ning Xingyong (Right), secretary of the Yuchai Stock Party Committee and executive vice president, handed over the key to the order delivery to customer representative Gu Xiaoxing (Left), General Manager of Jiangsu Starlight.
Jiangsu Starlight Electricity Equipment Co., Ltd., as Yuchai's largest OEM main engine supporting factory, has more than 40 years experience in diesel generator sets production. The company has perfect testing equipment, fine production technology, professional manufacturing technology, perfect quality management system, and exquisite research and development technology, 46 sales service departments all over the country, providing design, supply, commissioning and maintenance one-stop service for customers at any time.