Aug. 29, 2020
On July 25, 2020, an University of Technology purchased one set of 1000KVA Cummins diesel generator set from Starlight Power factory. It uses for emergency power supply system.
This University of Technology was founded in 1920, the University of technology is affiliated to the Department of industry and information technology. In 1951, it was identified as one of the two model universities to learn from foreign higher education mode. In 1954, it entered the ranks of the first batch of national key construction universities, and was once known as the cradle of engineers.
Cummins is the largest foreign investor in China. The engine of 1000kva emergency generator purchased by the customer is powered by Chongqing Cummins engine (Sino US joint venture). It has the advantages of small size, light weight, low fuel consumption, strong power, reliable operation, convenient supply and maintenance of accessories. Among similar products, it has better performance, better quality and more guaranteed service, so it is deeply loved by customers.
1000kva emergency diesel generator technical specifications
Genset prime power: 800kw/1000kva Standby power: 880kw/1100kva
Diesel engine: Chongqing Cummins KTA38-G5 (turbocharged, 12 cylinders, in line, 4 stroke)
Alternator: Starlight TFW2-800-4A ( brushless and self-exciting)
Control panel: SmartGen 6110
Rated voltage 230/400V, 1500rpm, 50Hz, 3 phase 4 wire, power factor 0.8lag
Accessories: 1000L external daily fuel tank, 2 pcs 200AH battery, Jacket heater, automatic battery charger, one set of maintenance tools kit etc.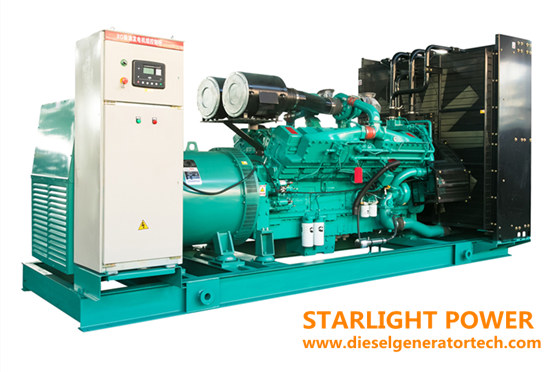 Features of Cummins KTA38 series diesel engine
Aftercooler
Large capacity after cooler results in cooler, denser intake air for more efficient combustion and reduced internal stresses for longer life.
Fuel System
Cummins exclusive lowpressure PT™ system with wear compensating pump and integral dual flyweight governor. Camshaft actuated fuel injectors give accurate metering and timing. Fuel lines are internal drilled passages in cylinder heads. Spin-on fuel filter.
Cooling System
Gear driven centrifugal water pump. Large volume water passages provide even flow of coolant around cylinder liners, valves and injectors. Bypass thermostats regulate coolant temperature. Spin-on corrosion resistors check rust and corrosion, control acidity and remove Impurities.
Turbocharger
Cummins Turbo Technologies (CTT) exhaust gas driven turbocharger mounted
at top of engine provides more power, improved fuel economy, altitude compensation, and lower
smoke and noise levels.
Cylinder Block
Alloy cast iron with removable wet liners. Cross bolt support to main bearing cap provides extra strength and stability.
Service and Support
G-Drive products are backed by an uncompromising level of technical support and after sales service, delivered through a world class service network. The Cummins diesel generator purchased from Starlight factory can enjoy free maintenance service during quality warranty time.
The KTA38-Series benefits from years of technical development and improvement to bring customers an innovative and future proof diesel engine that keeps pace with ever changing generator set requirements. Recognized globally for its performance under even the most severe climatic conditions, the KTA38-Series is widely acknowledged as the most robust and cost-effective diesel engine in its power range for the generator set market.
Starlight Power factory set up in 1974, have focused on high quality generator for more than 43 years and have more than 60 sales service centers in China. Starlight generator set has been sold all over the world and got good feedback from customers. Starlight Cummins diesel generator power range is from 25kva to 2000kva( oepn type, soundproof type, container type, trailer type for your choice), welcome to contact us by email sales@dieselgeneratortech.com or call us +8613481024441 ( same as WeChat number).