May. 29, 2020
Don't wait for the power failure to think of not buying a diesel generator as an emergency backup power supply. If so, you may have economic losses. Why is emergency standby diesel generator integral during power failure? Today Starlight Power manufacturer answers for you.
The phenomenon of power failure or high power loss caused by storms and other natural disasters is becoming more and more common. With the increasing dependence of internet technology on power, the reliability of power supply has become more and more important. For example, hospitals, data centers, water and sewage treatment facilities, gas stations, and communication and transportation systems need continuous power to ensure public health and safety.
Compared with other fuels and technologies, diesel generators can provide high quality and stable power supply and superior performance due to the transient or fluctuating power demand of high torque characteristics of diesel engines. Besides, in food and medical refrigeration, construction, elevators, sprinklers, and banking and commercial networks, in order not to be affected by power outage , recover economic losses, these fields further highlight the remarkable economic role of diesel generator sets.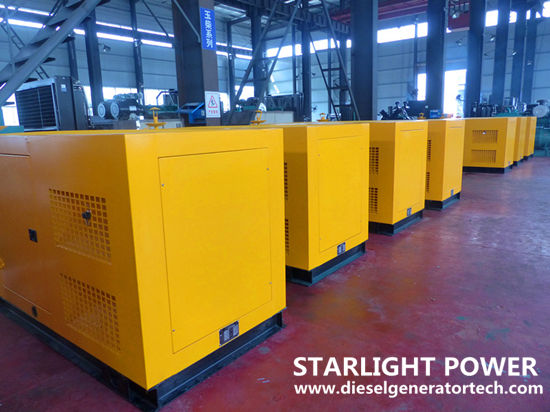 In many international electrical codes and standards, diesel generators are listed as the most reliable emergency standby power supply. Because diesel generators can fast respond time, load capacity, having availability and reliability in fuel supply. One of the most important and unique functions is that the diesel generator has faster response time than other technologies, and can start the electrical load fully absorbed within 5~6 seconds after power failure.
Diesel generators are the most common emergency backup power, not the primary power. But in some power shortage and remote places, diesel generator set is prime power supply equipment.
With the introduction of clean diesel technology, the new type of generator set has very low emissions, and also opens the market of distributed generation and peak shaving diesel power generation. Starlight Power diesel generators have low emission, low fuel consumption, high performance etc, which meet the non-road international emission standards, such as China Stage II, China Stage III, Euro Stage II, ECE R96 Stage III A, US Tier II and so on. The emission standard is mainly related to diesel engine emission. For example, Dongfeng Cummins diesel engine QSB series can meet Euro Stage III, Yuchai diesel engine YC6MK series can meet ECE R96 Stage III A. If you want to purchase diesel generator that meet these emission standard, welcome to contact us.
With the development of the economy, it is necessary to find clean and reliable power to supplement the fragile power grid to replace energy sources, such as hydropower, nuclear power, wind power and solar energy. In particular, it is necessary to increase the investment in fixed power generation of wind and solar energy to provide sustainable power reliability. We can adopt the "demand response" mode to cope with high power demand and prevent grid failure, and make use of the supplementary power provided by the existing standby diesel generator set.
By using the diesel generator in this way, the load demand for the grid is reduced during the high demand period, so as to avoid using the emergency generator for a longer time in the case of actual power failure.
Diesel diesel generator set provides durable, reliable energy to meet mobile and fixed power needs. Continuous power supply may mean the difference between life and death. Because of diesel generators, the supply of food, water, medicine and fuel can be protected in remote areas during natural disasters, peak power grid demand.
Nowadays people can't live without electricity, not only for entertainment, but also for many important occasions. In case of occasional power failure, emergency power supply shall be provided for timely power supply.
Therefore, if you have above situation, you can consider to have emergency standby diesel generator set. You can select power capacity according to your requirement.
Starlight Power series diesel generators are popular and common use brand. Starlight Power emergency diesel genset power range is from 25kva to 3125kva, diesel engine brands cover Cummins, Volvo, Perkins, Deutz, Doosan, Yuchai, Shangchai, Weichai, Wuxi, Ricardo etc. AC alternators cover Stamford, Engga, Marathon, Leroy Somer, Siemens, Shanghai Kepu, as well as our own brand Starlight. Alternator protection level is IP22 to IP23. Control panel has Smartgen and Deep Sea. Call us +8613481024441.