May. 12, 2023
The stability of parallel operation refers to the ability of a generator set to continue to operate synchronously under disturbances. Like the industrial power system, the diesel generator set in parallel operation and its electrical equipment also form a complete power system through power distribution devices and cables. This system also has issues with static stability and dynamic stability. Static stability refers to the ability of a system to recover to stable operating conditions before disturbances, such as minor changes in generator load, low energy diesel engine interference torque, etc. The dynamic stability of a system refers to the ability of the generator set to continue to operate synchronously after being subjected to severe and sudden disturbances.

For example, short circuits in the power grid, high-power asynchronous motor startup, sudden tripping of a parallel generator unit, high-frequency difference or large error angle input during parallel operation can cause significant disturbances to the power plant. After this disturbance occurs, the generator unit should continue to operate synchronously after a certain oscillation, and this ability is called dynamic stability.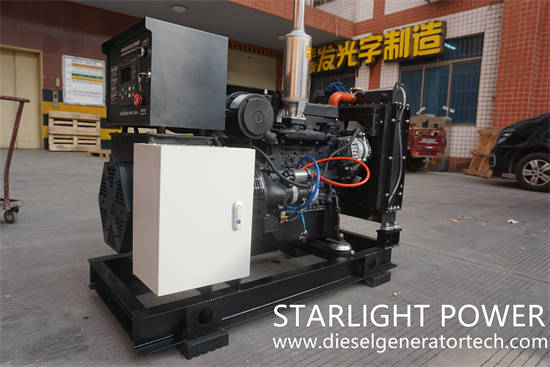 For more details on the characteristics and precautions of parallel operation of diesel generator sets, please pay attention to Jiangsu Starlight Electricity Equipments Co.,Ltd. for generator technical support such as installation, commissioning, maintenance and management of diesel generator sets.
Jiangsu Starlight Power Generation Equipment Co., Ltd. was founded in 1974 and is one of the earliest manufacturers of generators and diesel generator sets in China. The company has a registered capital of 218.88 million yuan. The company covers an area of 86,000 square meters and a building area of 55,000 square meters. There are more than 660 employees, including 456 professional technicians and 106 senior technicians. It has 46 sales and service outlets nationwide. The main products are diesel engines, generator sets, and diesel generators, providing users with a one-stop service of design, supply, debugging and maintenance at any time. Starlight has always insisted on using first-class talents, building first-class enterprises, manufacturing first-class products, creating first-class services, and making every effort to build a first-class domestic enterprise. If any question please feel free to visit our website https://www.dieselgeneratortech.com/ or send email to sales@dieselgeneratortech.com.