Sep. 04, 2023
What are the main mechanical faults of the Volvo diesel generator? Firstly, the shaft system of the linkage part of the Volvo diesel generator is not aligned, the centerline does not coincide, and the centering is incorrect. The main reason for this type of malfunction is due to poor alignment and improper installation during the installation process. There is also a situation where the centerline of some linkage parts coincides during cold state, but after running for a period of time, the centerline is damaged due to deformation of the rotor fulcrum, foundation, etc., resulting in vibration.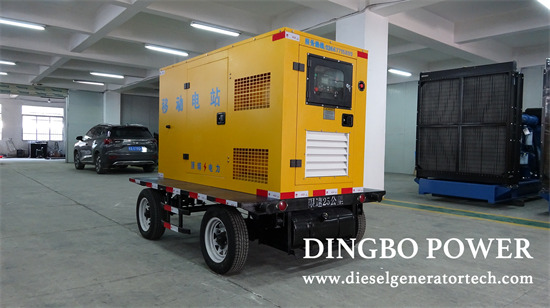 There is a problem with the gears and couplings connected to the Volvo diesel generator. This type of fault mainly manifests as poor gear engagement, severe tooth wear, poor lubrication of the opposite wheel, misalignment and misalignment of the coupling, incorrect tooth shape and pitch of the toothed coupling, excessive clearance or severe wear, all of which can cause certain vibrations.
Structural defects and installation issues of Volvo diesel generators themselves. This type of fault mainly manifests as elliptical shaft neck, bent shaft, excessive or small clearance between shaft and bearing shell, insufficient stiffness of bearing seat, foundation plate, some part of foundation, and even the entire installation foundation of Volvo diesel generator, loose fixation between Volvo diesel generator and foundation plate, loose foundation bolts, and looseness between bearing seat and foundation plate. Excessive or small clearance between the shaft and bearing pads can not only cause vibration but also cause abnormal lubrication and temperature of the bearing pads.
The load conducted vibration driven by Volvo diesel generators. For example, the vibration of a steam turbine generator, the vibration of a fan or water pump driven by the motor, causes motor vibration.
Guangxi Dingbo Power Equipment Manufacturing Co.,Ltd has been established for many years. In addition to strict requirements on the quality of diesel generator set products and after-sales service, it also has strict regulations on the plant environment, production equipment and supporting facilities, which reflects the strict style of Dingbo people. It is not only responsible for generator products, customers, but also employees, so that every employee of Dingbo Power generation equipment can work in a comfortable environment, Make it comfortable for every visiting customer to visit. Dingbo Power Group, relying on high-quality generators, generator sets, diesel generator, diesel generator sets, good services and the care of friends from all walks of life, carries forward the enterprise spirit of "pragmatic innovation, pioneering, unity and hard work, dare to be the first", and adheres to the enterprise style of "treating people with sincerity and heart to heart", has won the strong support of customers in the fields of post and telecommunications, finance, petrochemical, metallurgy, transportation, education, medical care, etc, Having a proud performance. Dingbo people are gradually moving towards economies of scale and entering the international market after joining the WTO with flexible sales strategies and relying on the company's advantages and strength. If you would like to get more information welcome to contact us via sales@dieselgeneratortech.com.