Mar. 22, 2023
What are the electrical hazards when installing or servicing generators?

1. When installing or maintaining a generator, turn off all power voltages from the power source.
2. All electrical connections, such as wires, cables, and terminals, must be properly insulated and covered, and must not be exposed to bare hands or water. This is crucial to preventing electric shock.
3. The frame of the generator and any external conductive parts should have appropriate grounding/grounding wires. This should not disconnect.
4. Wiring, cables, and wire sets must have the recommended capacity.
Although the above are only general guidelines that need to be followed in order to safely and effectively use the device, users must strictly comply with all guidelines and instructions detailed in the manual. Some simple precautions can greatly help ensure the safety and optimal use of the product.
At present, there is no standard price for diesel generator after-sales service. The manufacturer's after-sales service personnel and maintenance personnel the final say. Most manufacturers' door costs are based on distance and replacement of accessories. Maintenance costs are divided into major, medium, and minor repairs, with significant price differences. There are also some machines and equipment that need to be disassembled for maintenance, regardless of whether they are damaged or not, so additional maintenance fees must be charged.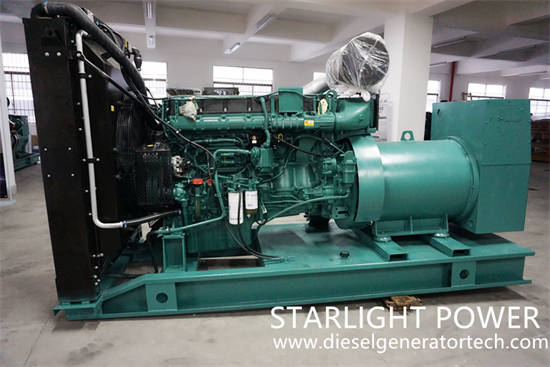 The cost of parts is generally priced by the generator manufacturer and is generally kept confidential, making it difficult to compare them. In this way, after a diesel generator breaks down, it is best to ask clearly about the price of the diesel generator set in advance, and not wait until the repair is completed to discover that the price is high. In addition, some generator manufacturers will have detailed maintenance instructions online that can be used as a reference for charging. It is best to keep the replaced parts for future reference.
Jiangsu Starlight Power's heavy-duty diesel generator series can provide backup power generation for businesses in industries such as hospitals, key departments, and financial institutions. Even a short power outage can cause huge economic losses to banks or serious consequences for patients in hospitals. High power generators not only need to provide emergency power generation, but also need to provide continuous power supply. Whether you are looking for healthcare diesel generators, defense diesel generators, telecommunications diesel generators, industrial diesel generators, or commercial diesel generators, we can provide the diesel generator set that best suits your needs.
Jiangsu Starlight Electricity Equipments Co.,Ltd. is one of the earliest manufacturers of generating sets in China. It has first-class testing equipment, advanced production technology, professional manufacturing technology, perfect quality management system, and strong R&D technical strength. It can provide 3KW-2500KW various specifications of universal, automatic, four protection, automatic switching, low noise and mobile, etc., high-quality, low-energy generating sets to meet all customers' power needs, and can also meet users' different voltages and different frequency requirements, as well as the parallel-connected power supply system of multiple units, use excellent talents to build excellent enterprises, create excellent products, create excellent services, and strive to build excellent domestic enterprises. For more product details, please contact us with sales@dieselgeneratortech.com.