Aug. 01, 2023
Any operator who has ever used a diesel generator will almost see such a phenomenon: there is liquid oozing from the joint between the engine cylinder head and the engine body in the diesel generator, what is the reason? What is the cause of this malfunction? Is it harmful to diesel generator? How can we fix such a malfunction? In this article, Dingbo Power Generation Equipment will be analyzed the reasons.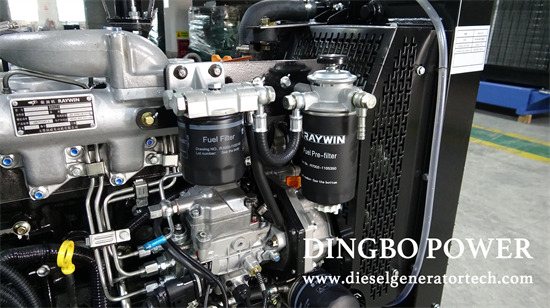 Water seepage fault of diesel generator: when the diesel generator is supplying power to the equipment, water overflows between the cylinder head and the cylinder block. During the long-term operation of the diesel generator, due to the high temperature of the engine body, water shortage in the engine body, loose cylinder head nuts, or damage to individual parts of the diesel generator, the above faults will be caused.
Fault analysis of diesel generator:
(1) The cylinder gasket of the diesel engine is damaged by flushing;
(2) Insufficient tightening torque of diesel engine cylinder head nuts.
Troubleshooting of diesel generator:
(1) After the diesel engine stops rotating, remove the valve cover, rocker arm seat, etc., and inspect the fastening nuts of the cylinder head. It was found that the tightening torque of the fastening nuts is severely uneven, and some can be tightened with a torque of 100N. m. After tightening each nut with a torque of 270N. m, assemble the rocker arm seat and adjust the valve clearance.
(2) After starting the diesel engine to the rated speed and running for a period of time, no water overflow was found between the cylinder head and cylinder, and the fault was eliminated.
Guangxi Dingbo Power Equipment Manufacturing Co.,Ltd has been established for many years. In addition to strict requirements on the quality of diesel generator set products and after-sales service, it also has strict regulations on the plant environment, production equipment and supporting facilities, which reflects the strict style of Dingbo people. It is not only responsible for generator products, customers, but also employees, so that every employee of Dingbo Power generation equipment can work in a comfortable environment, Make it comfortable for every visiting customer to visit. Dingbo Power Group, relying on high-quality generators, generator sets, diesel generator, diesel generator sets, good services and the care of friends from all walks of life, carries forward the enterprise spirit of "pragmatic innovation, pioneering, unity and hard work, dare to be the first", and adheres to the enterprise style of "treating people with sincerity and heart to heart", has won the strong support of customers in the fields of post and telecommunications, finance, petrochemical, metallurgy, transportation, education, medical care, etc, Having a proud performance. Dingbo people are gradually moving towards economies of scale and entering the international market after joining the WTO with flexible sales strategies and relying on the company's advantages and strength. If you would like to get more information welcome to contact us via sales@dieselgeneratortech.com.