Jul. 16, 2019
Starlight Power is a diesel generator manufacturer, as well as the OEM supporting office center of Volvo generator. Volvo is a industrial enterprise in Sweden, the quality of its diesel generator is very high, Volvo company has 120 years history, one of the world's oldest engine manufacturers. So far, its diesel engine quantity has over one million sets, and widely used for car, engineering plant, steamer etc. It is also the ideal power for diesel generator set.
Starlight Volvo diesel generator set has fast and reliable cold start performance, optimum design shock absorber, low running cost of continuous load and low speed cooling fan. It adopts advanced technology to optimize combustion process, accurately matched turbocharger, also can reduces running noise. And the emission reaches the German TALUFT standard. The emission of EFI machine is better than that of German TALUFT standard.
Here is some advantages of Volvo diesel generator set:
1.Power range: 75kw-616kw;
2.Powerful load bearing capacity;
3.Engine running smoothly and low noise;
4.Reliable cold start performance;
5.Exquisite and compact appearance design;
6.Low fuel consumption and operation cost. Small exhaust gas emission, economy and environmental protection;
7.There are service centers and spare parts suppliers all over the world.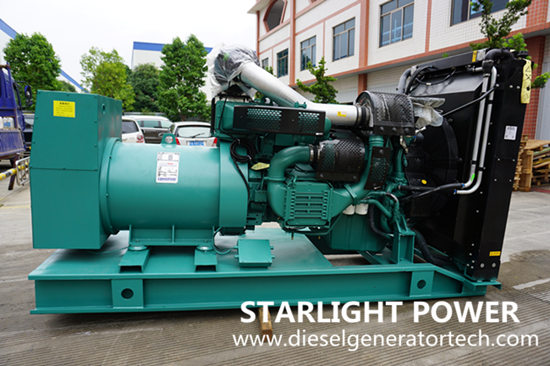 Specifications of Starlight 300kw Volvo diesel generator set
Starlight Volvo diesel generator model

XG-300GF

Genset power

Prime

Standby

300kw

330kw

Diesel engine model

TAD1343GE

Diesel engine power

323kw

355kw

Diesel engine manufacturer

Sweden Volvo Penta

Engine structure

6 in line, 4 stroke, Turbocharged & Intercooled, EFI

fuel system

Engine cooling way

Water cooling, Belt driven cooling fan, safety cover with fan

Speed regulating system

Electronic monitoring and management system

Start mode

24V DC

Engine filter system

Dry air filter, oil-water separator, fuel filter, oil filter, oil filter, oil filter through the filter, cooling filter

Fuel system

Full electronic fuel injection system

Total engine displacement

12.13L

Compression ratio

17.5:1

Bore x stroke

131 x 150mm

100% load fuel consumption

86.0 L/h

95.7L/h

Exhaust air volume

510㎡/min

Gas capacity

24.0 ㎡/min

26.0㎡/min

Smoke exhaust capacity

64.0㎡/min

69.0㎡/min

Smoke temperature

505℃

525℃

Engine Oil capacity

35L

Coolant capacity

44L

Short circuit protection

MCC air switch

Rated voltage/frequency/ Power factor

230/400V, 50Hz, 1500rpm, 0.8lag

Steady frequency

adjustment rate

0~5%

No-load voltage

adjustment range

≧95%~105%

Steady voltage adjustment rate

>±1%

Protection level

H/IP23
The engine TAD1343GE for Starlight Volvo 300kw diesel generator is designed for efficient power generation and maximum uptime. The robust design makes the engine highly reliable. Its rigid, in line cylinder block with durable crankshaft bearings, aircooled exhaust manifold, and electronically controlled, wastegate turbo provide a very powerful engine. The smooth operation of this both robust and well balanced diesel engine results in minimal levels of vibrations and noise, as well as controlled emission levels. So that make Volvo generator is with good performance.
Even if Volvo diesel generator is very reliable and high quality, if you have Volvo diesel generator, during use, you should also pay attentions to something:
Avoid prolonged idle and low load operation, this operation will result in problems as follows:
1.Increased lubricant consumption;
2.Leakage of fuel or lubricant in exhaust manifold;
3.Leakage of oil from turbine shaft seal of turbocharger;
4.Serious carbon deposit on piston, piston ring groove, valve and supercharger;
5.Low combustion temperature will cause incomplete combustion of fuel, resulting in dilution of lubricant.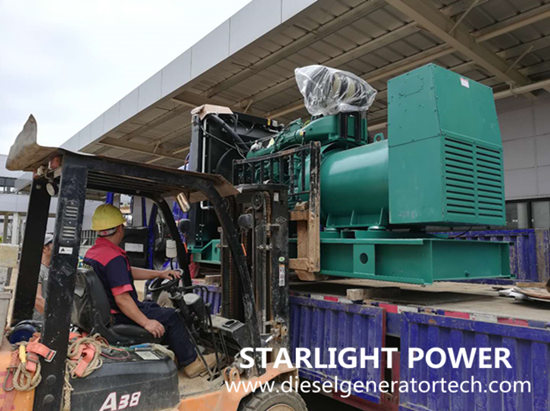 Why use certified Volvo diesel engine air filter?
1.Bad air filtration will lead to worsening engine wear. For a continuous working engine, it may take only a few hours to damage the cylinder liner and cylinder;
2.This unnecessary wear greatly shortens the time from the engine to the next overhaul and can damage the engine under extreme conditions;
3. Other effects, for example poor filtration or filter blockage are increased fuel and lubrication consumption and reduced engine performance.
Starlight Power manufacturer always provides high quality and certified diesel generator set to every customer, at the same, also provides professional after-sale service. Contact us to get the best product and service.