Jul. 06, 2022
Diesel generator set is mainly composed of diesel engine, synchronous alternator, water tank, integrated control panel, supporting electrical control equipment and various auxiliary components, and the thermostat is a very important component in the diesel engine cooling system. The function is to automatically change the amount of water flowing through the radiator of the water tank according to the load of the diesel generator set and the level of the water temperature, so as to ensure that the diesel generator set works at the best temperature. Next, Starlight Power Generation Equipment will analyze the faults that are prone to occur in the thermostat of diesel generator sets and how to deal with them.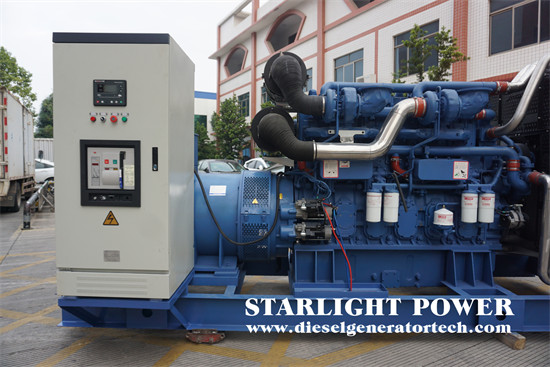 1. Faults that are prone to occur in the thermostat
In the working process of the diesel generator set, the main fault of the thermostat is that the water outlet valve cannot be opened and closed flexibly. If the outlet valve station is opened too early, the warm-up time of the diesel generator will be prolonged; if the outlet valve is opened too late, the diesel generator set will be overheated. Therefore, after the diesel generator set has been used for a period of time, the thermostat should be removed for technical inspection.
2. Repair method after the thermostat is damaged
After the thermostat is damaged, it should generally be replaced with a new one. In special cases, solder can also be used to repair cracks or cracks. The specific method is: repair the damaged part with solder, then inject alcohol or ethanol with a syringe above the expansion cylinder, then put the thermostat into hot water, and after the alcohol or ethanol expands to discharge the air, then use solder to close the pinhole closed. In order to prevent alcohol or ethanol volatilization, welding repairs should be fast. The thermostat is generally installed at the interface of the water outlet pipe of the cylinder head.
Jiangsu Starlight Power Generation Equipment Co., Ltd. was founded in 1974 and is one of the earliest manufacturers of generators and diesel generator sets in China. The company has a registered capital of 218.88 million yuan. The company covers an area of 86,000 square meters and a building area of 55,000 square meters. There are more than 660 employees, including 456 professional technicians and 106 senior technicians. It has 46 sales and service outlets nationwide. The main products are diesel engines, generator sets, and diesel generators, providing users with a one-stop service of design, supply, debugging and maintenance at any time. Starlight has always insisted on using first-class talents, building first-class enterprises, manufacturing first-class products, creating first-class services, and making every effort to build a first-class domestic enterprise. If any question please feel free to visit our website https://www.dieselgeneratortech.com/ or send email to sales@dieselgeneratortech.com