May. 16, 2023
Sometimes, generators may suddenly experience abnormal power drops during operation, and there are many reasons for the power drop. Today, Jiangsu Starlight Electricity Equipments Co.,Ltd. mainly analyzes the reasons that come from the failure of the generator cylinder head group.

(1) Due to exhaust leakage, the intake air is insufficient or mixed with exhaust gas, resulting in insufficient fuel combustion and reduced power of the generator. The mating surface between the valve and valve seat should be polished to improve its sealing performance, and replaced if necessary.
(2) The leakage of the joint surface between the cylinder head and the engine body can cause air in the cylinder body to enter the water or oil channels, causing coolant to enter the engine body. If not detected in a timely manner, it can cause "sliding shoes" or black smoke, resulting in insufficient engine power. Due to damage to the cylinder head gasket, a stream of air will rush out of the gasket during transmission, and water bubbles will appear at the gasket during engine operation. At this time, the cylinder head nut should be tightened according to the specified torque or the cylinder head gasket should be replaced.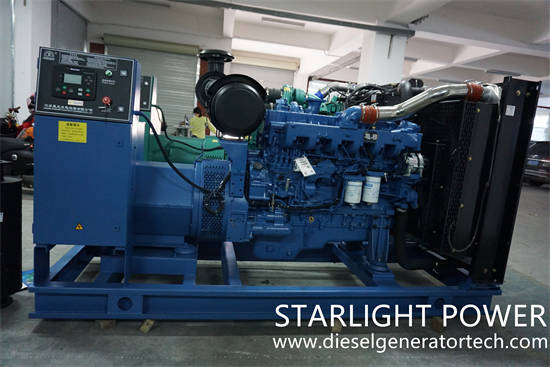 (3) Incorrect valve clearance can cause air leakage, resulting in a decrease in engine power and even difficulty in ignition. The valve clearance should be readjusted.
(4) Damaged valve springs can cause difficulty in valve return, valve leakage, reduced gas compression ratio, and thus insufficient engine power. Damaged valve springs should be replaced promptly.
(5) Air leakage from the installation hole of the fuel injector or damage to the copper gasket can cause cylinder shortage, resulting in insufficient engine power. It should be removed for maintenance and replaced with damaged parts. If the inlet temperature is too low, it will cause an increase in heat dissipation loss. At this time, the inlet temperature should be adjusted to meet the specified value.
The above faults of the generator cylinder head group will reduce its power, cause insufficient power of the generator, and hinder its normal operation. If your generator experiences insufficient power, please stop the machine in a timely manner for troubleshooting to avoid damage to the generator.
Jiangsu Starlight Electricity Equipments Co.,Ltd. is an OEM partner of Shangchai for many years. It has more than 40 years of experience in the production and manufacturing of diesel generator sets. It can provide users with various specifications of 15KW-2500KW. And other high-quality, low-energy generating sets to meet all customers' power needs. In addition, it can also meet the requirements of users with different voltages and different frequencies, as well as the power supply system of multiple units connected to the network. There are 64 sales and service departments nationwide, providing long-term technical consultation, free debugging, free maintenance, and free training services for users. Welcome contact us by email sales@dieselgeneratortech.com.