Jul. 05, 2022
Today, we will briefly introduce the specific function of the crankshaft of the Cummins generator set.
The function of the crankshaft flywheel set of Cummins generator set is to convert the force from the piston connecting rod group into torque, output mechanical work from the shaft, and drive various mechanisms and auxiliary systems of the diesel engine at the same time, overcome the resistance of the non-power stroke, and can also store and release. energy to make the diesel engine run smoothly. It is mainly composed of crankshaft, flywheel and torsional damper.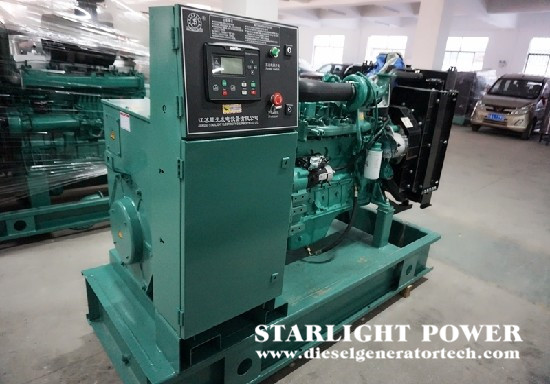 Function, working conditions and manufacturing method of crankshaft The function of crankshaft is to convert gas pressure into torque output to drive the power plant connected to it. In addition, it also drives the valve train of the diesel engine itself and various accessories, such as fuel injection pumps, water pumps, etc.
When the crankshaft is working, due to the high gas force, reciprocating inertial force, centrifugal force and its moment, shock alternating stress (stretching, compression, bending, torsion) is generated inside the crankshaft, and torsional vibration is easily generated, resulting in fatigue failure of the crankshaft.
In addition, due to the high-speed rotation of each journal under high pressure, the journal and the bearing are seriously worn. Therefore, the requirements for the crankshaft are: fatigue resistance and impact resistance; sufficient strength and rigidity; Good performance and always maintain a good lubricating state; better static and dynamic balance; no torsional vibration within the operating speed range; reliable installation and axial positioning or limit axial displacement.
Crankshaft blanks are manufactured by casting and forging methods. Forged crankshafts are mainly used in high-strengthened diesel engines. Such crankshafts are generally made of alloy steel or medium carbon steel with high strength limit and yield limit. Cast crankshafts are widely used in small and medium power diesel engines, and are usually cast with high-strength ductile iron. The advantages are: easy to manufacture and low cost; reasonable structural shapes can be cast; the damping effect on torsional vibration is better than that of steel crankshafts according to the composition of each component. The connection situation can be divided into combined crankshaft and integral crankshaft.
Jiangsu Starlight Power Generation Equipment Co., Ltd. was founded in 1974 and is one of the earliest manufacturers of generators and diesel generator sets in China. The company has a registered capital of 218.88 million yuan. The company covers an area of 86,000 square meters and a building area of 55,000 square meters. There are more than 660 employees, including 456 professional technicians and 106 senior technicians. It has 46 sales and service outlets nationwide. The main products are diesel engines, generator sets, and diesel generators, providing users with a one-stop service of design, supply, debugging and maintenance at any time. Starlight has always insisted on using first-class talents, building first-class enterprises, manufacturing first-class products, creating first-class services, and making every effort to build a first-class domestic enterprise. If any question please feel free to visit our website https://www.dieselgeneratortech.com/ or send email to sales@dieselgeneratortech.com.