Mar. 30, 2023
As an emergency standby power supply, diesel generator sets are not always in operation, and sometimes require long-term (more than 3 months) downtime when not needed. In order to ensure the normal operation of the unit when it is restarted, Jiangsu Starlight Power reminds you that the diesel generator unit has been out of service for more than 3 months and needs to be sealed for storage.

Before storage, that is, after the last use of the diesel generator set, the user should drain the engine oil of the diesel generator set, including the oil in the oil filter, in a hot state, and hang a label on the diesel generator set that states that the set does not have engine oil and should not be used. Due to the anti rust function of the coolant, there is no need to drain it. In addition, it is necessary to add qualified sealing oil of specified capacity into the crankcase, start the diesel engine to idle speed, run for 1 to 1.5 minutes, and then stop. Then, drain the sealing oil from the oil pan. The sealing oil inside the engine is dehydrated CF15W-40 lubricating oil.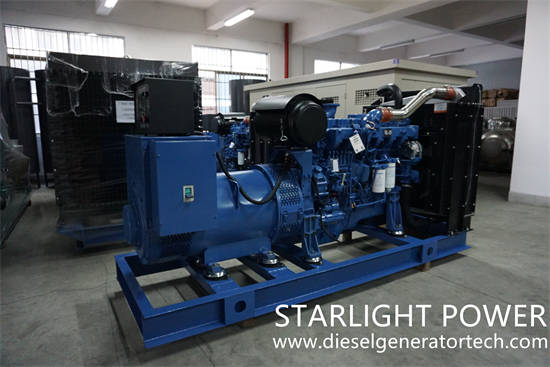 In addition, before sealing, the surface of the unit should also be cleaned and checked for visible dirt, oil, rust, water, etc., and then dried with compressed air. Use a brush to evenly apply rust preventive oil to all diesel engine metal surface machined surfaces. Note that the surfaces of rubber, plastic, and fiber fabric parts must not be coated with or in contact with rust preventive oil.
During the storage period, the starting battery should be charged monthly, and the battery level should be checked. If necessary, it should be added before charging.
When it is necessary to restart the diesel generator set, remove the cover and wrapping of the diesel generator, connect the pipeline, pump oil and exhaust the fuel system, connect the battery wiring, tighten the drive belt, and add clean engine oil. Add an appropriate amount of clean engine oil to the turbocharger oil inlet, check the oil level and coolant level, and then use the correct method to start the diesel engine.
Note: If the storage period exceeds 2 years, the coolant must be replaced and the cooling system cleaned.
Here are some storage and startup methods for diesel generator sets that have been out of service for more than 3 months. I hope the above content can be helpful to you.
Jiangsu Starlight Electricity Equipments Co.,Ltd. is a diesel generator set manufacturer with more than 40 years of production experience. Its main brands include Yuchai generator sets, Cummins generator sets, Volvo generator sets, etc., and 64 sales and service departments nationwide. Users provide one-stop service of design, supply, debugging and maintenance. Welcome contact us by email sales@dieselgeneratortech.com.