Feb. 24, 2022
Because the diesel generator set will heat up with the operation when it is in use, especially in the high temperature weather in summer. The high temperature of the body will cause the diesel generator to fail, so we need to add circulating cooling water to the diesel generator to take away the heat of the diesel generator set through the heat transfer characteristics of the water. So as to cool the body, to avoid the role of failure. Therefore, our diesel generator sets should avoid the use of diesel generators when there is no cooling water or a serious shortage of cooling water.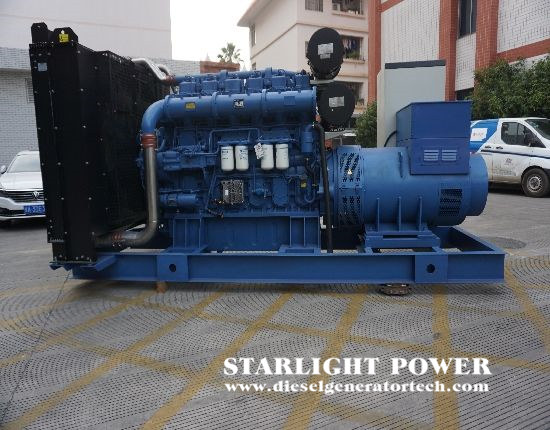 Insufficient cooling water for diesel generator sets will reduce its cooling effect, and the body temperature will be overheated due to lack of effective cooling; too high oil temperature of cooling water and engine oil will also cause engine overheating. The main heated parts such as cylinder head, cylinder liner, valve, and piston assembly are heavily loaded. Due to their sharp decline in mechanical properties, the parts will be deformed, reducing the fitting gap between the parts, and accelerating the wear of the parts, which will cause explosions, cracks, and machine parts. a jammed fault. It will also deteriorate the combustion process of the diesel engine, make the diesel injector work abnormally, and cause poor atomization, resulting in an increase in carbon deposits, affecting the combustion effect and work. Diesel generator sets are expensive, so when users use diesel generator sets, they must pay attention to check whether the cooling water of the diesel generator sets is sufficient.
Recently, the units purchased by some customers are still within the scope of warranty. When there is a problem, the after-sales service is required. Our Jiangsu Bailida engineers visited the site and found that some of them were not covered by the warranty. When communicating with customers, some customers kept saying that they had not exceeded the warranty. Why not guarantee the warranty period, and also said that we lied to him. We are also very wronged in such a situation. Let us explain to you what problems are not covered by the warranty:
Various incorrect installation and use of non-original unit accessories. Misuse and accidental damage caused by its own negligence not complying with the relevant operating instructions, maintenance instructions and installation instructions. Damage caused by impact inhalation of foreign objects.
Jiangsu Starlight Power Generation Equipment Co., Ltd. was founded in 1974 and is one of the earliest manufacturers of generators and diesel generator sets in China. The company has a registered capital of 218.88 million yuan. The company covers an area of 86,000 square meters and a building area of 55,000 square meters. There are more than 660 employees, including 456 professional technicians and 106 senior technicians. It has 46 sales and service outlets nationwide. The main products are diesel engines, generator sets, and diesel generators, providing users with a one-stop service of design, supply, debugging and maintenance at any time. Starlight has always insisted on using first-class talents, building first-class enterprises, manufacturing first-class products, creating first-class services, and making every effort to build a first-class domestic enterprise. If any question please feel free to visit our website https://www.dieselgeneratortech.com/ or send email to sales@dieselgeneratortech.com.