Sep. 30, 2021
Most users who have used Volvo diesel generators know that a speed governor will be installed on the Volvo diesel generator. This is because the speed of the Volvo diesel generator changes greatly when the load changes.
To be clear, when the load of Volvo diesel generator decreases, the speed increases, and the increase in speed leads to an increase in the circulating oil supply of the plunger pump. The increase in circulating oil supply leads to a further increase in speed. This continues a vicious circle and causes the engine speed. Higher and higher.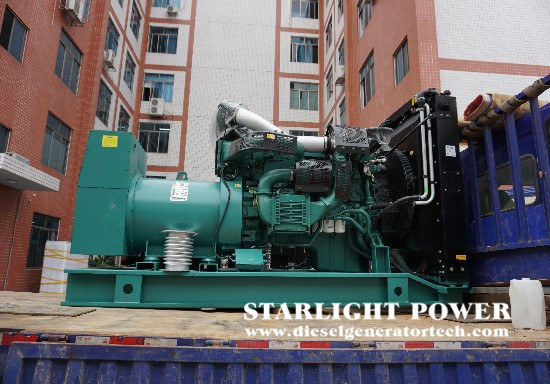 What should we do if the governor of Volvo diesel generator cannot adjust the speed? At this time, you can directly contact the after-sales department, and a professional Volvo diesel generator technician will explain for you.
After installed a governor, but what's wrong with the instability? Is the quality of the Volvo diesel generator that I bought is not good enough? Of course not, the reason for the instability may be: too little oil, too low oil level will cause air to enter the oil of the device, check methods are: fill the oil to make it reach the oil level specified by the cursor, check the oil seal, Especially the oil seal of the drive shaft. Check again to see if the parts of the governor are worn out, and do a thorough inspection. Also, the working oil pressure is too low, which will also affect the instability of the governor.
Regarding the unstable phenomenon of Volvo diesel generator speed regulation, what we have to do is to do a good job of inspection, and then find a professional Volvo diesel generator manufacturer to do maintenance work. In addition, it is specially reminded that when friends use Volvo diesel generators, in addition to doing a good job of inspection work, their maintenance is also indispensable.
Starlight Power has a management team with advanced consciousness, strong youth, and proficient business. It takes the establishment of a high-tech innovation enterprise as the starting point, adheres to "high starting point, high technology, and excellent service", actively gathers and absorbs advanced technology and products at home and abroad, and continuously monitors products. In recent years, the company has extensively cooperated with Swedish Volvo, American Cummins, British Perkins, Korean DOOSAN, German MTU, Ricardo, Shanghai Diesel, Yuchai, Weichai, Jichai, Tongchai, Wudong and other companies, and become (OEM ) Supporting factories and technical centers have laid a solid foundation for opening up the international market. Starlight has advanced testing equipment, modern production technology, professional manufacturing technology, perfect quality management system, and strong technical research and development capabilities. It can provide 3KW~2500KW various specifications of ordinary, automatic, four protection, automatic switching, low noise and mobile generator sets, high quality and low energy consumption to meet the diverse power needs of customers, and can also meet users with different voltages and different frequencies. It is required to create a parallel power supply system for multiple units. For more information, welcome to send email to sales@dieselgeneratortech.com.