Apr. 19, 2022
Today, we will briefly introduce the content of the protection measures for the reverse power of low-noise generators. If what else you need to know about that, welcome to visit our Starlight website. Next, we will introduce the relevant information to you.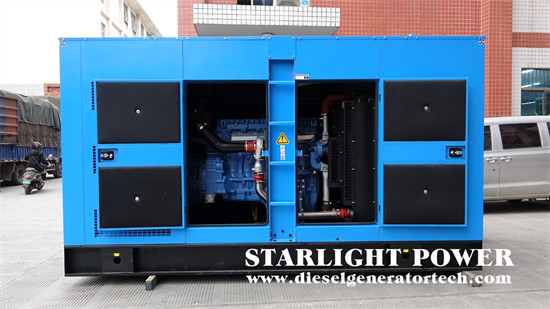 The super quiet generator reverse power maintenance is used to maintain the steam turbine. When the main valve is closed by mistake or the main valve is closed by the furnace maintenance measure and the generator outlet switch is not tripped, the generator becomes the motor running state, and the generator absorbs active power and energy from the system. Reactive power, this working condition has no effect on the low-noise generator, but due to the loss of blasting, the tail blade of the gas turbine may overheat, damage the tail blade and cause a steam turbine accident. Therefore, large generators are not allowed to run for a long time under this condition, and are only allowed to run for a few minutes at most. my country's self-designed generators were not equipped with reverse power maintenance in the past, but adopted the following methods:
Use interlocking method. When the main valve is closed, the auxiliary contact of the main valve is used to cut off the Shanghai generator after a delay. Although the above-mentioned methods are feasible, they have shortcomings, because none of them can correctly reflect the closed state of the main valve. The central element of the reverse power protection is the reverse power relay. The reverse power relay is similar to the power direction relay, but when the power direction is reversed, it will send a signal in time or delay the action to cut off the machine. After the main steam valve is closed, send a signal in the control room. If the main steam valve is closed by mistake, the steam supply can be quickly restored after checking, so that the generator can run normally.
Jiangsu Starlight Power Generation Equipment Co., Ltd. was founded in 1974 and is one of the earliest manufacturers of generators and diesel generator sets in China. The company has a registered capital of 218.88 million yuan. The company covers an area of 86,000 square meters and a building area of 55,000 square meters. There are more than 660 employees, including 456 professional technicians and 106 senior technicians. It has 46 sales and service outlets nationwide. The main products are diesel engines, generator sets, and diesel generators, providing users with a one-stop service of design, supply, debugging and maintenance at any time. Starlight has always insisted on using first-class talents, building first-class enterprises, manufacturing first-class products, creating first-class services, and making every effort to build a first-class domestic enterprise. If any question please feel free to visit our website https://www.dieselgeneratortech.com/ or send email to sales@dieselgeneratortech.com.