Dec. 08, 2022
Jiangsu Starlight Electricity Equipments Co.,Ltd. Guide: Diesel generator set is an important power supply equipment for factories, enterprises, hospitals, buildings, etc. Correct use and maintenance is the key to ensure the normal operation of the generator set, and also the key to extend the service life of the generator set. The following is a brief introduction to the correct use of the diesel generator set.

1. Carry out operation and maintenance in strict accordance with the operation and maintenance specifications of diesel generator set, and regularly start the machine for 10-15min no-load test.
2. Operate in strict accordance with the high-voltage operation specification, and the operators shall have corresponding high-voltage operation qualifications.
3. The parallel switching camera room has corresponding high-voltage protection measures, which must be operated in strict accordance with the operating procedures.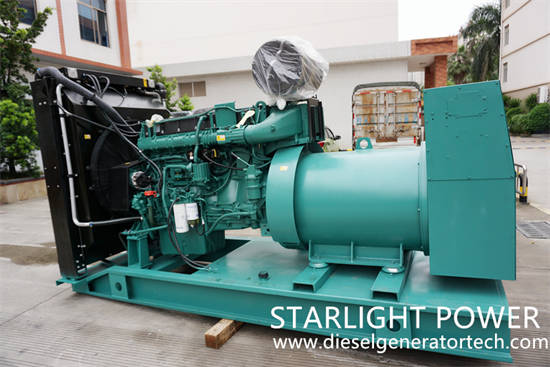 4. In order to ensure the procedure of correct operation of the switch cabinet and handcart, the switch cabinet is equipped with reliable mechanical and electrical interlocking machines that meet the requirements of the "five prevention" function.
① Prompting buttons or KK type change-over switches are installed on the door of the instrument room to prevent incorrect closing and opening of the circuit breaker.
② The opening and closing operation can only be carried out when the handle of the circuit breaker is in the test or working position, and the handcart cannot move after the circuit breaker is closed, which prevents the circuit breaker from being pushed or pulled with load by mistake.
③ Only when the grounding switch is in the opening position can the circuit breaker handcart be moved from the disconnection position to the working position, and only when the circuit breaker handcart is in the disconnection position can the grounding switch be closed. This can prevent the grounding switch from closing by mistake and prevent the circuit breaker from closing when the grounding switch is in the closed position.
④ When the grounding switch is in the opening position, the lower door and the rear door cannot be opened to prevent entering the live room by mistake.
⑤ When the circuit breaker handcart has no control voltage at the test or working position, it can only be opened manually, and cannot be closed.
Jiangsu Starlight Electricity Equipments Co.,Ltd. is a manufacturer of professional generators, diesel generator sets, Cummins generator sets, Volvo generator sets, etc. The company has advanced testing equipment, excellent production technology, professional manufacturing technology, perfect quality management system, and Strong R&D technical strength. It can provide 15KW-2500KW various specifications of universal, automatic, four protection, automatic switching, low noise and mobile, etc., high-quality, low-energy generating sets to meet customer power needs, and can also meet users' different voltages and different frequencies, as well as the power supply system of multiple units connected in parallel, welcome customers to inquire. For more details, please contact us with sales@dieselgeneratortech.com.