Apr. 15, 2022
Today, we will briefly introduce to you the content of the maintenance method of the low-noise generator set starting the motor incapable of running. If what else do you need to know about this, welcome to visit our starlight website, and then we will introduce the relevant information to every user.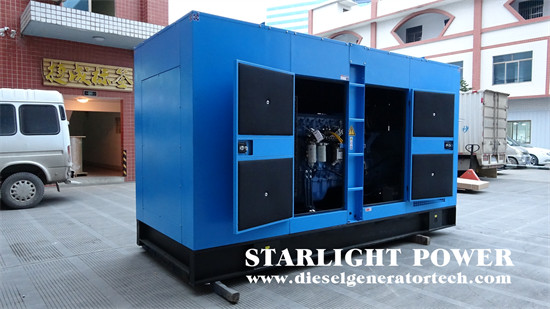 When the silent diesel engine starts, the crankshaft does not rotate or rotates slowly, so that the diesel engine cannot enter the self-running state. Generally, there are three reasons: insufficient battery power, excessive starting resistance, or burning of the movable and static contacts inside the electromagnetic switch. Poor contact occurs. The specific inspection methods for low-noise generators are as follows:
Check whether the power of the battery is sufficient; check the contact between the brush and the commutator (or commutator). Under normal circumstances, the contact surface between the bottom surface of the brush and the commutator should be more than 85%. If not, replace the new brush; check whether the commutator (or commutator) is burnt, scratched, or pitted. If there is a lot of dirt on the surface of the commutator, clean it with diesel or gasoline. If there are serious burns, wear and scratches, and the surface is not smooth or out of roundness, it can be repaired or replaced according to the situation. When repairing, the commutator can be turned with a lathe and polished with a fine emery cloth.
Check the working surfaces of the movable contacts and the two static contacts inside the electromagnetic switch of the generator set. If the movable contacts and the static contacts are burnt and the starter motor is incapacitated, fine abrasive cloth can be used to clean the movable contacts and the static contacts. Flatten the head.
Jiangsu Starlight Power Generation Equipment Co., Ltd. was founded in 1974 and is one of the earliest manufacturers of generators and diesel generator sets in China. The company has a registered capital of 218.88 million yuan. The company covers an area of 86,000 square meters and a building area of 55,000 square meters. There are more than 660 employees, including 456 professional technicians and 106 senior technicians. It has 46 sales and service outlets nationwide. The main products are diesel engines, generator sets, and diesel generators, providing users with a one-stop service of design, supply, debugging and maintenance at any time. Starlight has always insisted on using first-class talents, building first-class enterprises, manufacturing first-class products, creating first-class services, and making every effort to build a first-class domestic enterprise. If any question please feel free to visit our website https://www.dieselgeneratortech.com/ or send email to sales@dieselgeneratortech.com.