Jul. 21, 2023
The low-frequency eddy current in the drain tube of diesel generator is an unstable flow phenomenon in the drain tube of Francis turbine and axial flow fixed blade turbine under partial load. In this article, Starlight Power Generation Equipment will share the low-frequency vortex in the drainage pipe of diesel generator and the prevention measures.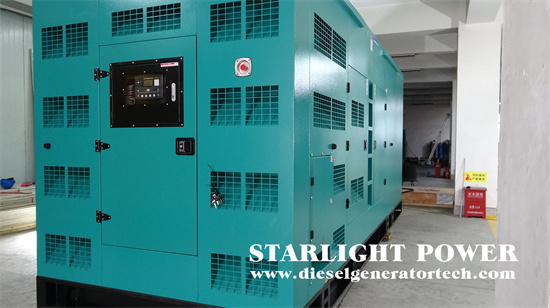 When the diesel generator turbine operates under non design conditions, due to the rotating water flow at the runner outlet, vortex and cavitation, water pressure pulsation often occurs in the headrace pipe. Especially after the large vortex band appears in the drainage tube, the vortex band rotates at a nearly fixed frequency inside the tube, causing low-frequency pressure fluctuations in the water flow. When water flow occurs in the pipeline, pressure pulsation will cause vibration of the drainage pipe wall, flow channel, water guide mechanism, volute, and pressure pipe.
Prevention and control measures:
(1) Optimize hydraulic design. Adopting a negative inclination airfoil, the number of blade outlet rings is reasonably distributed, the upper crown and drainage cone are suitable, and a high head mixed flow channel with auxiliary blades can be considered.
(2) Avoid operating in vibration work areas.
(3) Changing the flow and rotation of water flow; For example, lengthening the drainage cone; Extend the tapered portion of the drainage tube; Increase the cone angle of drainage pipes, water barriers, and partitions; Control the eccentricity of the vortex strip.
(4) During equipment operation, natural gas should be used to properly ventilate the vortex zone, and forced air should be used if necessary.
Since 1982, Starlight Generator has been a generator set manufacturer qualified by the "National Internal Combustion Engine Quality Supervision and Inspection Center". The product quality has passed the IS09001 quality system standard certification. And obtained the qualification certificate for self-operated import and export. Over the years, starlight units have been widely used in all walks of life, and have won the network access qualification of the Ministry of Information Industry, the network access qualification of the Ministry of Radio and Television, the network access qualification of CNPC, the network access qualification of China Mobile, and the manufacturing qualification of marine units. In 2016, Starlight was awarded the Certificate of Qualified Supplier of China Nuclear Power Group. Starlight Generator has been cooperating with Shangchai Power for many years. In 2009, it became the OEM partner of Shangchai Power in China. Starlight generator VOLVO unit ranks the top three in the Asia-Pacific sales volume, and is the core OEM partner of Sweden Volvo in the Asia-Pacific region. If any question please feel free to visit our website https://www.dieselgeneratortech.com/ or send email to sales@dieselgeneratortech.com.