Jun. 29, 2019
Trailer diesel generator is a new function added on the basis of ordinary diesel generator. Users can easily move the whole generator set without forklift, trailer and other engineering tools.
Economically speaking, we can reduce the cost of forklifts, trailers, trucks and labor, it is not necessary to hire professional diesel generator set technicians to disassemble, transport, install, it is also can be moved.
Trailer diesel generator set also is called mobile power station, its design is innovative, with high mobility, low center of gravity, braking safety, excellent manufacturing and beautiful appearance. Its characteristics are introduced as follows:
1.Trailer frame of trailer generator is welded by trough beam, reasonable selection of joints, high strength and good rigidity, as well as suspension structure with leaf spring;
2.Trailer of the generator is used height adjustable pin type traction frame, suitable for tractors of various heights; It adopts circular steel pipe to weld through axle, which has compact structure and is safe and reliable;
3.The four corners of the frame are equipped with mechanical support devices, equipped with inertial driving brake, parking brake and emergency brake to ensure the safety of generator set in various conditions. The front end of the frame is equipped with supporting wheels, which can bear the vertical load of the generator set and also have the guiding function;
4.The trailer diesel generator is equipped with steering, braking lights and standard plugs for taillights;
5.Significant low noise performance, generator noise limit 75dB at 1 m from generator;
6.High-efficiency noise-reducing multi-way intake and exhaust, intake and exhaust air passage, to ensure adequate dynamic performance of the generator;
7.Special quick opening cover, easy maintenance.
There are many types of trailer generator: Hand-push, three-wheel, four-wheel, automobile power station, trailer power station, mobile low-noise power station, mobile container power station, electric power engineering vehicle, etc. Trailer generator is widely used in construction sites, highways, railway construction and temporary sites where electricity is used.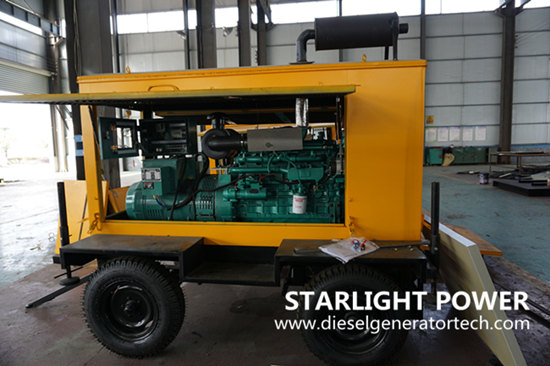 Mobile trailer diesel generator is a movable power generation equipment which design for temporary location where use electricity. With the advantages of fast and convenient, it is one of the indispensable equipments in the market of temporary power demand, such as outdoor concerts, emergency rescue, engineering assault, etc. It also occupies a larger market share. So if to choose mobile trailer diesel generator set, how much we need? And which supplier is more reliable? Starlight Power manufacturer shares some ideas as follows:
As a standby power supply for power supply network, trailer diesel generating units have been widely used. The mobile trailer generator set can be placed indoors or outdoors directly. Placed indoors to save space for customers, while several silent generators are placed in the generator room, power workers can also work in the generator room and some other power equipment can also be placed in the generator room. Put it outdoors, which saves customers a lot of money to build the generator room.
Here we recommend Starlight series trailer diesel generating set to you, which produced by Starlight Power manufacturer. Starlight Power trailer diesel generator power range is from 20kw to 2500kw, the brand covers Cummins, Volvo, Perkins, Yuchai, Shangchai, MTU, Ricardo, Deutz, Doosan Wuxi, Weichai etc. Starlight Power manufacturer mainly produces high quality and high performance diesel generator.
At the same time, we also provide pre-sale technical advice and planning guidance of matching for genset, such as generator selection, matching, generator room design, etc. To answer the users' questions during they uses diesel generator set.

How much one set trailer generator? There are many different brands, types and configuration levels, so here we are not able to provide price. If you plan to purchase trailer generator, please contact us directly with the brand, power etc. We will work with you at any time.