Sep. 21, 2019
When install CCEC Cummins engine and diesel generator, all installation systems must meet the requirement, otherwise they will not be able to work normally, even cause serious faults. In this article, Starlight mainly talks about installation and use of CCEC Cummins engine and generator.
1.The design of machine room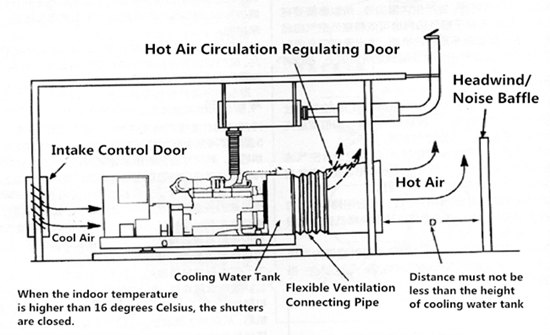 2.Ventilation system
The machine room should be well ventilated.
A.Closed cooling mode of fan water radiator: Fan radiator units have been installed in a complete set, users do not need to install additional cooling devices;
B.The air inlet area of generator room is 1.0 to 1.5 times of the front area of the radiator, and the air outlet area is 1.0 to 1.5 times of the front area of the radiator. If the ventilator is equipped with shutters or grids, the area of the air outlet should also be increased;
C.If there is window shades on exhaust duct which to adjust indoor temperature, when indoor temperature, when indoor temperature is higher than 16 ℃, should close window shades to discharge all hot air outdoor.
3.Exhaust system
A.The back pressure of air exhaust can not over 76mm Hg (10kPa);
B.We recommend the exhaust pipe diameter: N series: 130/150mm, K6 series: 150/200mm and KV series: 200/250mm;
C.Exhaust system components should not be due to their own weight, inertia, relative movement between components;
D.Flexible pipes should be installed between supercharger and muffler exhaust pipes to cause excessive stress caused by thermal expansion to damage supercharger and exhaust manifold;
E.Exhaust system must prevent any water from entering diesel engine or supercharger;
F.Fire prevention and heat insulation should be paid attention to when the temperature of exhaust pipe is high.
4.Intake system
A.Intake resistance should be less than 6.4kPa( New filter element<3.8kPa);
B.When intake resistance is over 6.4kPa, the air intake resistance indicator will turn red. The air filter core should be replaced at this time;
C.The genset is usually installed in the engine room. In order to ensure the air flow in the machine room, a large enough vent is necessary;
D.Air filter inlet temperature should not be higher than 38 ℃, otherwise the exhaust temperature will rise, power will drop, and will cause faults.
5.Fuel system
Intake resistance should be less than 102mm Hg.
The fuel tank shall not be less than or higher than 1.6m of the crankshaft axis.
The auxiliary (float) tank should be added when the tank exceeds 1.6m of the crankshaft axis.
We recommend fuel pipe diameter (Cummins) as follows:
Oil supply pipe diameter: N series: 13mm, K6 series: 16mm, KV series: 22mm.
Return pipe diameter: N series: 10mm, K6 series: 13mm, KV series: 16mm.
Fuel pipes should not be galvanized, otherwise they will be easily corroded.
6.Electrical systems
The circuit voltage drop should be small, and the loop resistance is less than 0.002 ohms.
Battery capacity:
KV38/50-1800CCA(400Ah)
N855/K19-900CCA(200Ah)
Low temperature batteries are used below 20 ℃, but the charge and discharge performance of batteries below 0 ℃ is very poor. Battery heating (< 58 ℃) is conducive to charging and discharging.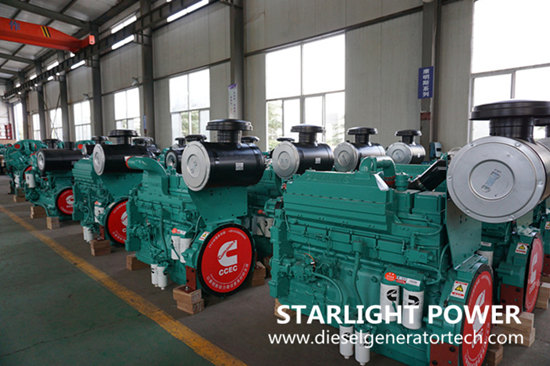 7.Engine lubricating oil requirements
A.Viscosity conforms to SAE 15W40; Quality conforms to API CF4 or higher grade;
B.Change engine oil and filters regularly(250h);
C.When on the plateau, must use CF4 or above CF4 level oil. Because on the plateau, the burning situation of engine fuel is bad, oil contamination is rapid, oil life below CF4 level is less than 250 hours (usually shorter in plateau than in plain);
D.If has not changed engine oil over the changing oil period, the engine will not be properly lubricated and aggravate wear and tear, even block up filters, then cause faults. On the plateau, accord to temperature to choose 10W30 or 15W40.
We do not recommend to use single viscosity engine oil:
It will cause serious problems when SAE40 is used in the environment below + 10 ℃ in summer.
Hot zone engine oil (SAE50) will cause serious problems when it is used in the environment below + 20 C, and it is also used in the engine before overhaul in the temperate zone.
Requirements of engine coolant liquid:
According to the requirements to use water filter or add DCA dry powder to prevent corrosion, cavitation and scaling of cooling systems.
Check pressure cover sealability of water tank and whether there is leakage on cooling systems, ensure the boiling point of the coolant does not decrease and the cooling system is normal.
Use coolant which scale between glycol and water is 57: 43 or the manufacturer-approved coolant that meet below 45 ℃.
Check regularly DCA concentration and freezing point in coolant.
Starlight CCEC Cummins diesel generator power range is from 200kW to 1500kW, if you are interested in Cummins generator, please contact us directly by email: sales@dieselgeneratortech.com.