Dec. 09, 2022
When the generator is installed, in order to absorb thermal expansion, unit displacement and vibration, the generator exhaust port should be connected with a retractable stainless steel bellows of more than 24 inches. Similarly, the exhaust port of small generator directly fixed on the floor should also have more than 18 inches of corrugated pipe.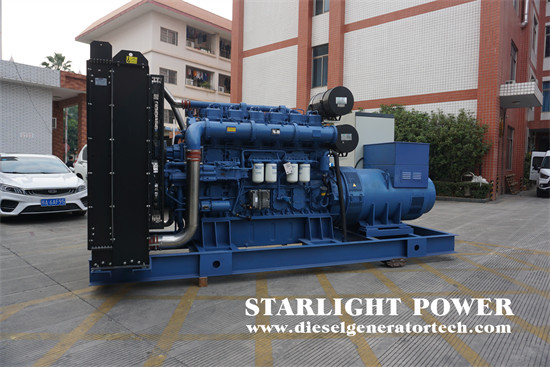 It is strictly forbidden to use corrugated pipes as elbows and to compensate for pipe installation errors. In order to reduce condensation corrosion, the exhaust pipe muffler shall be installed as close to the generator as possible for rapid heating. Mufflers and exhaust pipes shall be supported by hangers, and generator exhaust pipes are strictly prohibited. Otherwise, the generator exhaust pipe will be damaged, reducing the life of the turbocharger. Black iron pipe is recommended for exhaust pipe. Select elbow with larger radius as far as possible.
On the premise of meeting the back pressure limit of generator exhaust pipe, it is recommended that the nominal diameter of the entire exhaust system pipe should be consistent with the generator exhaust port as much as possible. It is prohibited to use pipes with a diameter smaller than the exhaust port, because the thick pipes are more vulnerable to condensation corrosion, and also expand the exhaust emissions, causing power loss.
The smaller the change of exhaust system pipe diameter, the smaller the friction loss. All silencers and exhaust pipes shall be insulated to avoid accidental contact with fire or false start of automatic fire extinguishing equipment, and reduce condensation corrosion and heat radiation in the unit room. Exhaust pipes and combustibles shall be spaced at least 9 inches apart. When it is necessary to pass through the wall and ceiling, the exhaust pipe shall be provided with a flame retardant sleeve or thermal insulation cotton. When the temperature rises by 100 ° F at room temperature, the exhaust pipe will expand by about 0.0076 inch per inch. It is recommended that stainless steel bellows be used to absorb the thermal expansion of long straight pipes. Flat exhaust pipes should have a slope. The low end is far away from the generator and extends to the outdoor or condensate collector.
Jiangsu Starlight Power Generation Equipment Co., Ltd. was founded in 1974 and is one of the earliest manufacturers of generators and diesel generator sets in China. The company has a registered capital of 218.88 million yuan. The company covers an area of 86,000 square meters and a building area of 55,000 square meters. There are more than 660 employees, including 456 professional technicians and 106 senior technicians. It has 46 sales and service outlets nationwide. The main products are diesel engines, generator sets, and diesel generators, providing users with a one-stop service of design, supply, debugging and maintenance at any time. Starlight has always insisted on using first-class talents, building first-class enterprises, manufacturing first-class products, creating first-class services, and making every effort to build a first-class domestic enterprise. If any question please feel free to visit our website https://www.dieselgeneratortech.com/ or send email to sales@dieselgeneratortech.com.