May. 06, 2023
In the field of diesel generator, temperature is a common symptom of diesel generator faults, and is widely used to detect faults. To ensure that the quality and performance of the operating temperature of the generator set meet the standard requirements, relevant testing and evaluation are required. Among them, contact temperature is an effective method for evaluating thermal mechanical properties. By measuring the temperature under different loads, mechanical properties such as strength, toughness, and ductility can be analyzed. In this paper, the research object is how to detect the fault of diesel generator set by detecting temperature. By touching the temperature and measuring the pulse, the fault performance is measured and analyzed in detail, providing a scientific basis for the temperature control and performance evaluation of the diesel generator set.

1. Touch the temperature.
In the initial stage after starting the diesel engine, touch the temperature of the exhaust manifold of each cylinder by hand to identify the working condition of each cylinder. If the temperature of the exhaust manifold of a certain cylinder is higher than that of other cylinders, it indicates that the fuel supply of that cylinder is on the high side. If the temperature is low, the fuel supply of the cylinder is low, or there is no fuel injection or incomplete combustion after injection, or there is no combustion.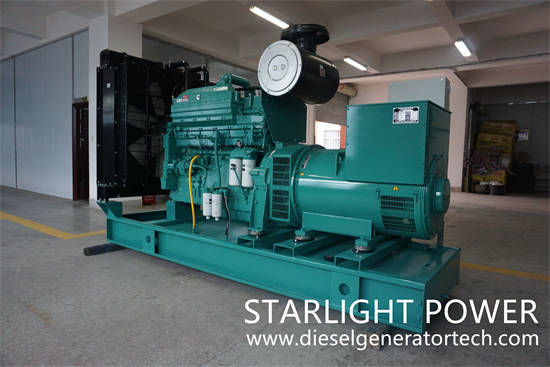 2. Measure pulsation.
This method is applicable to check the operation of fuel injection pump and fuel injector of diesel generator. When it is suspected that some plunger couples or injectors inside the injection pump of the diesel generator set are working abnormally, you can hold them tightly on the high-pressure fuel pipe of the diesel generator set, and use the change of oil pressure and temperature in the fuel pipe to judge whether the plunger couples or injectors are faulty.
Jiangsu Starlight Electricity Equipments Co.,Ltd. is one of the earliest manufacturers of generating sets in China. It has first-class testing equipment, advanced production technology, professional manufacturing technology, perfect quality management system, and strong R&D technical strength. It can provide 3KW-2500KW various specifications of universal, automatic, four protection, automatic switching, low noise and mobile, etc., high-quality, low-energy generating sets to meet all customers' power needs, and can also meet users' different voltages and different frequency requirements, as well as the parallel-connected power supply system of multiple units, use excellent talents to build excellent enterprises, create excellent products, create excellent services, and strive to build excellent domestic enterprises. For more product details, please contact us with sales@dieselgeneratortech.com.