Feb. 14, 2023
The rolling bearings installed on the internal combustion engine of diesel generator set include ball, roller (cone) and needle bearing. They often work under high-speed and heavy-load conditions. After long-term use, the raceway and rolling experience wear, ablation, fracture, fatigue peeling and spot damage. Generally, the rolling bearing is not disassembled for inspection, and its quality can be identified by visual inspection after cleaning, idling test and internal clearance measurement if necessary.

(1) External inspection.
After the external inspection of the rolling bearing, if it is found that there are slight corrosive black spots on the bearing and slight defects of the isolating ring that do not affect the bearing rotation, and if there are no more than four broken notches on the circumference of the flange surface of the small end of the inner ring of the tapered roller bearing, its total radian is not more than 30 °, and there is a certain distance (not less than 30 °) between the two adjacent notches, it can generally continue to be used.
(2) Idling test.
Idle the bearing to see whether it rotates freely and whether there is noise, stagnation and jamming. The bearing rotation is uneven, which can be judged from the feeling on the hand.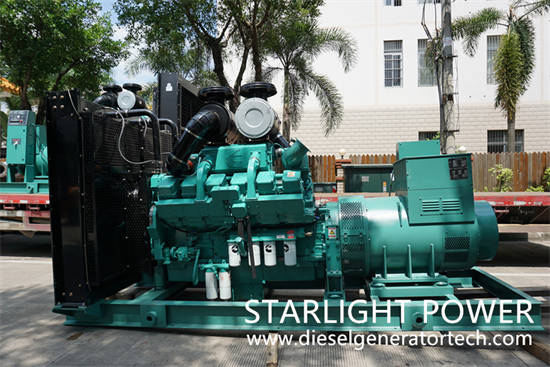 (3) Clearance measurement.
The wear of ball bearing can be determined by measuring its radial clearance and axial clearance. When checking the radial clearance of the bearing, it is necessary to press the inner ring of the bearing with one hand, and push the outer ring back and forth with the other hand. The value changed by the gauge needle is the radial clearance of the bearing. When checking the axial clearance of the bearing, it is necessary to push the inner race up and down, and the difference between the maximum number of gauge needles and the minimum number is the axial clearance of the bearing.
Jiangsu Starlight Electricity Equipments Co.,Ltd. is a manufacturer of professional generators, diesel generator sets, Cummins generator sets, Volvo generator sets, etc. The company has advanced testing equipment, excellent production technology, professional manufacturing technology, perfect quality management system, and Strong R&D technical strength. It can provide 15KW-2500KW various specifications of universal, automatic, four protection, automatic switching, low noise and mobile, etc., high-quality, low-energy generating sets to meet customer power needs, and can also meet users' different voltages and different frequencies, as well as the power supply system of multiple units connected in parallel, welcome customers to inquire. For more details, please contact us with sales@dieselgeneratortech.com.