Apr. 20, 2023
In today's world, due to rapidly increasing demand and decreasing supply, fuel prices are rising, and you need to choose a cost-effective fuel to meet your needs. We all know that the price of diesel is slightly higher than gasoline, but diesel has a higher energy density, which means that compared to gasoline of the same volume, diesel can extract more energy. It is precisely due to higher efficiency and cost-effectiveness that diesel engines are receiving increasing attention.

The difference between gasoline engines and diesel engines lies in the ignition type. When gasoline engines rely on spark ignition for operation, diesel engines use compression ignition to ignite fuel. In the latter case, air is drawn into the engine and subjected to high compression, causing the engine to warm up.
This causes the temperature in the engine to be very high, much higher than the temperature reached in gasoline engines. At peak temperatures and pressures, diesel entering the engine will ignite due to extreme temperatures.
In diesel engines, air and fuel are injected into the engine at different stages, as opposed to gas engines that introduce a mixture of air and gas. Fuel is injected into diesel engines using an injector, while in gasoline engines, the carburetor is used for this purpose. In a gasoline engine, fuel and air are sent together into the engine and then compressed. The mixture of air and fuel limits the compression of the fuel, thereby limiting overall efficiency.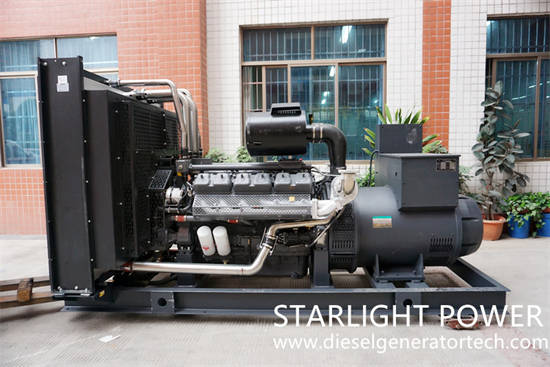 Diesel engines only compress air, and the ratio can be much higher. The compression ratio of diesel engines is between 14:1 and 25:1, while the compression ratio of gasoline engines is between 8:1 and 12:1. After combustion, combustion by-products are discharged from the engine through exhaust gas.
When starting in cold months, additional heat is provided through the "glow plug". Diesel engines can have two or four cycles and are selected based on the operating mode. Air cooled and liquid cooled engines are variants that require appropriate selection. It is best to use a liquid cooled generator because it operates quietly and has uniform temperature control.
Compared with gasoline generators, diesel generator are more efficient and popular for the following reasons:
1. Modern diesel generator overcomes the disadvantages of noise and high maintenance cost of earlier models. Compared to gasoline generators of similar sizes, they generate lower noise and require less maintenance.
2. The diesel generator is more solid and reliable.
3. There is no spark when the fuel spontaneously ignites. The absence of spark plugs or spark plug wires reduces maintenance costs.
4. The fuel cost per kilowatt produced is 30 to 50% lower than that of gasoline engines.
5. A 1800 rpm water-cooled diesel generator set will run for 12000 to 30000 hours before any major maintenance is required. A water-cooled gasoline generator set with a speed of 1800 rpm typically operates for 6000 to 10000 hours before maintenance is required.
6. Gasoline generator sets burn hotter than diesel generator sets, so their life is much shorter than diesel generator sets.
The application and purpose of diesel engines.
Diesel engines are commonly used as mechanical engines, generators, and mobile drives. They are widely used in locomotives, construction equipment, automobiles, and countless industrial applications. Their field extends almost to all industries, and if you observe them from under the hood of all the devices you pass by, you can observe them every day.
Industrial diesel engines and diesel generator are used in construction, marine, mining, hospitals, forestry, telecommunications, underground and agricultural applications, to name just a few. The generation of main or standby standby power supply is the main application of diesel generator today.
More and more industrial and commercial institutions use diesel generator or generator sets. Generators can be used for small loads, such as homes, as well as large loads, such as factories, hospitals, and commercial buildings. They can be the main power supply or the backup power supply.
Jiangsu Starlight Electricity Equipments Co.,Ltd. is a manufacturer of professional generators, diesel generator sets, non-moving generator sets, Cummins generator sets, Volvo generator sets, etc. It has 64 sales and service departments across the country, providing users with design, supply, debugging, and maintenance at any time. Welcome customers to come to consult and visit. Looking forward to your inquiry, please send email to us for details sales@dieselgeneratortech.com.