Apr. 02, 2022
If the diesel generator set is under 30% rated load, the economy will be worse. Usually, it is more favorable for the diesel engine to operate the diesel generator set when the load exceeds 60% of the rated load. The solution to this problem is to correct the load input characteristics of the diesel generator set.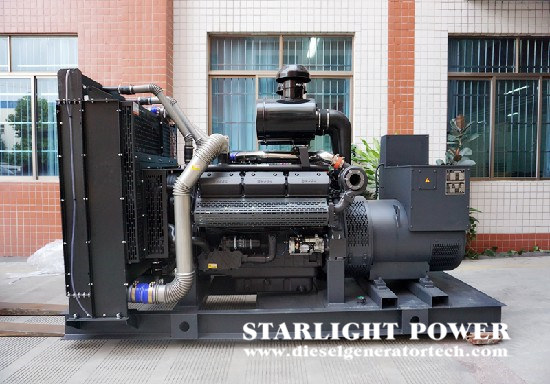 There are many ways to improve the power factor of the system, the main ones are as follows:
The first method is to set up the automatic switching cabinet, so that the other loads of the generator are connected before the UPS. This method is only suitable for high-power diesel generator system-UPS power supply system. In such a system, in addition to the UPS, there are loads of other natures. This kind of automatic switching cabinet is difficult to realize, and the engineer of the manufacturer needs to debug the UPS and the generator separately during maintenance.
The second method is to add a permanent inductive reactance to compensate the capacitive load, usually using a parallel wire wound reactor connected to the generator output parallel board, this is easy to achieve and low cost, but whether it is heavy or light load , the reactor is always sinking current and affecting the load power factor. Moreover, regardless of the number of UPS, the number of reactors is always fixed.
The third method is to install an inductive reactor that can just compensate the capacitive reactance of the UPS in each UPS, and the contactor (option) controls the access of the reactor under low load conditions. This method can set the reactor more accurately, but the number is large and the cost of installation and control is high.
The fourth method is to install a contactor in front of the filter capacitor, which opens at low loads. Because the timing of the contactor must be precise and the control is more complicated, it can only be installed in the factory.
Jiangsu Starlight Power Generation Equipment Co., Ltd. was founded in 1974 and is one of the earliest manufacturers of generators and diesel generator sets in China. The company has a registered capital of 218.88 million yuan. The company covers an area of 86,000 square meters and a building area of 55,000 square meters. There are more than 660 employees, including 456 professional technicians and 106 senior technicians. It has 46 sales and service outlets nationwide. The main products are diesel engines, generator sets, and diesel generators, providing users with a one-stop service of design, supply, debugging and maintenance at any time. Starlight has always insisted on using first-class talents, building first-class enterprises, manufacturing first-class products, creating first-class services, and making every effort to build a first-class domestic enterprise. If any question please feel free to visit our website https://www.dieselgeneratortech.com/ or send email to sales@dieselgeneratortech.com.